Coronavirus: A Gospel Opportunity Amid Crisis
Due to the fear and hysteria connected to the current Coronavirus outbreak, the Church is presented with an opportunity unlike any other we've probably seen in our lifetime.
On this special episode of the Lifeschool Podcast, we look at our opportunity to truly glorify God and bring the reality of salvation, hope, and the Kingdom of God made real, for many people in a way they've never seen, heard or experienced before.
In This Episode You'll Learn:
Why the new trend of churches starting to live-stream services may backfire. (Or produce healthier new rhythms!)
Why a Christian version of "social isolation" is misguided.
How the Gospel informs our actions and response in times of great need.
Practical steps you can take TODAY to display and proclaim the Gospel to those in need and trapped by fear.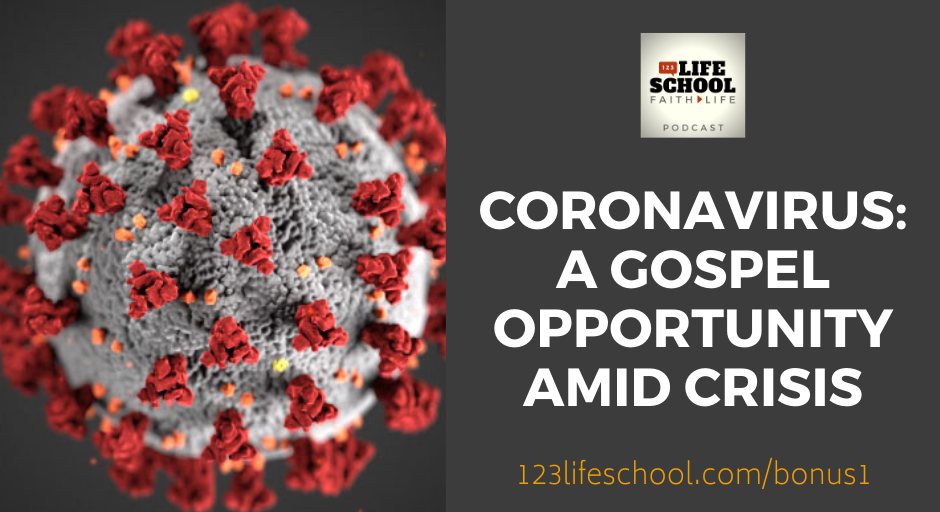 From this episode:
"God is not punishing you or me or anyone with this virus. His grace and unmerited favor is available in full measure for us all, and will hopefully lead us to glorify Him and serve others the way he graciously served us with the life of his Son, Jesus, on the cross."
Each week the Big 3 will give you immediate action steps to get you started.
Download today's BIG 3 right now. Read and think over them again later. You might even want to share them with others…
Thanks for Listening!
Thanks so much for joining us again this week. Have some feedback you'd like to share? Join us on Facebook and take part in the discussion!
If you enjoyed this episode, please share it using the social media buttons you see at the top of this page or right below.
Also, please leave an honest review for The Lifeschool Podcast on Apple Podcasts or wherever you listen. Ratings and reviews are extremely helpful and greatly appreciated! They do matter in the rankings of the show, and we read each and every one of them.
Links and Resources Mentioned in This Episode:
Caesar Kalinowski's Website and Blog with Loads of Resources
Missio Publishing – More Missional Books and Resources