Being Good Neighbors This Summer on Mission
Summer is a great time, with plenty of good reasons, to get out and about and mix it up with your neighbors more often, especially now that we're coming out of this pandemic lockdown and extreme social distancing.
In this episode of the Everyday Disciple Podcast, I talk about the idea of "neighboring well" in the summer months. I'll show you how to make the next few months awesome for the sake of discipleship and mission, and really set yourself up for a great autumn season in your community.
In This Episode You'll Learn:
Why this summer will be like none we've experienced before.
How to identify the "People of Peace" in your neighborhood.
A way to REALLY get to know your 8 closest neighbors.
Loads of tips on being a good neighbor and living as a blessing this summer.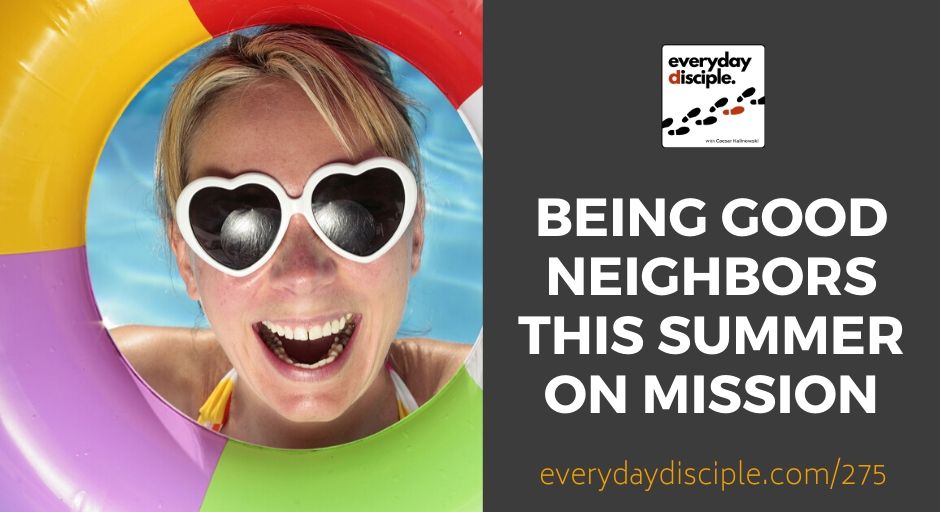 From this episode:
"Don't let the fear of man, performance anxiety, or past experiences with your neighbors keep you from trusting God to guide you this summer. You already have His perfect love and acceptance regardless of which neighbors respond to your attempts to build new relationships. You can feel free (and sent by your heavenly Father) to invite everyone to a place at the table and leave the results to him."
Each week the Big 3 will give you immediate action steps to get you started.

Download today's BIG 3 right now. Read and think over them again later. You might even want to share them with others…
Thanks for Listening!
Thanks so much for joining us again this week. Have some feedback you'd like to share? Join us on Facebook and take part in the discussion!
If you enjoyed this episode, please share it using the social media buttons you see at the top of this page or right below.
Also, please subscribe and leave an honest review for The Everyday Disciple Podcast on Apple Podcasts or wherever you listen. Ratings and reviews are extremely helpful and greatly appreciated! They do matter in the rankings of the show, and we read each and every one of them.
Links and Resources Mentioned in This Episode:
Free Download of the Big 3 For Episode #275
Where to Find Your People of Peace
Everyday Disciple: FREE Discipleship Resources and Training.
Missio Publishing – More Missional Books and Resources