154: How We Can Be More Generous People
Does generosity flow from our pockets and purses… or does it flow from our hearts?
In this episode of the Lifeschool Podcast, we talk to author and cool brother Marty Duren about how we can be more generous people that live lives of blessing. What is it that keeps us from living with the grace and extravagant generosity that we've received as Christians?
None of us were born with a single possession. We all started off naked. Everything we have in life—family, intelligence, education, money, homes… EVERYTHING—has been added to our lives by God. What we do with all of it, that's another story. Amazingly, God leaves that in our hands.
In This Episode You'll Learn:
How the gospel is a picture of generosity… and vice versa.

What lurks in our hearts that keeps us from being more generous people.

Our unbelief and fear connected to giving and generosity.

Why seeing generosity only connected to money falls way short of the truth.

Ways to begin to live less selfishly in all of life today.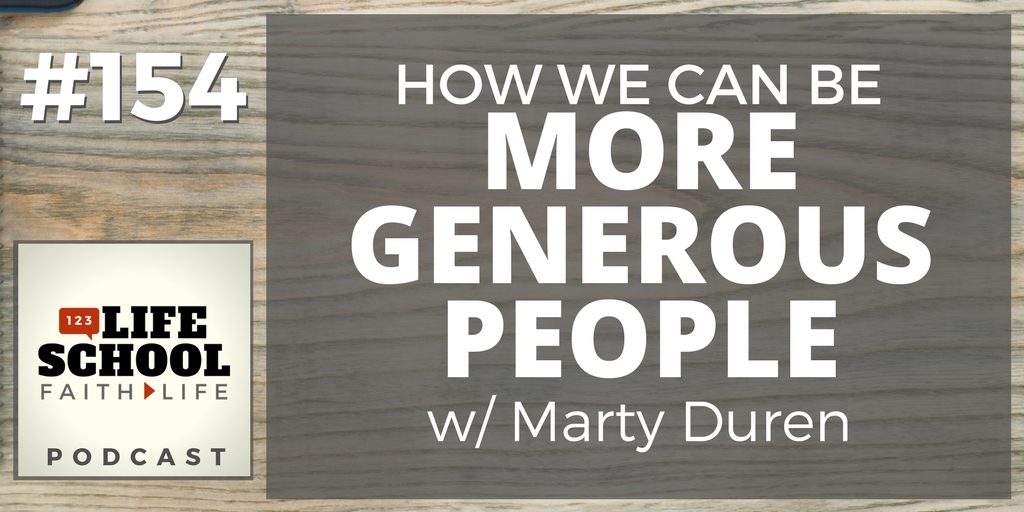 Most people do have forms of giving, benevolence, and generosity they engage in throughout their lifetime. Let's let the Gospel shape our intentionality and give us new eyes to connect all of this to God's glory. And… it is a BLAST to bless people when they least expect it!
Each week the Big 3 will give you immediate action steps to get you started.
Download today's BIG 3 right now. Read and think over them again later. You might even want to share them with others…
Thanks for Listening!
Thanks so much for joining us again this week. Have some feedback you'd like to share? Join us on Facebook and take part in the discussion!
If you enjoyed this episode, please share it using the social media buttons you see at the top of this page or right below.
Also, please leave an honest review for The Lifeschool Podcast on iTunes. Ratings and reviews are extremely helpful and greatly appreciated! They do matter in the rankings of the show, and we read each and every one of them.

Links and Resources Mentioned in This Episode:
Free Download of the Big 3 For Episode #154
Marty's book: The Generous Soul: An Introduction to Missional Giving
Missio Publishing – More Missional Books and Resources
Caesar Kalinowski's Website and Blog with Loads of Resources