137: The 3 Seductions: Appetite, Ambition & Approval
Temptation is everywhere. Heck, it's even lurking inside of me! And all of us, at some point in our lives, have given into temptations.
Today on the Lifeschool podcast, we talk with author and movement leader Mike Breen about what may lay behind our own particular "Achilles heel" types of temptations. We discuss the 3 seductions of appetite, ambition and approval. Buckle up!
Did you know that these three seductions have always existed? They even showed up when Jesus was tempted in the wilderness at the beginning of his ministry. And there is a lot to learn about temptation in our own life from how Jesus responded.
In This Episode You'll Learn:
How to identify what drives your personal temptations.

The fruit that is produced in our lives by each of these 3 seductions.

How Jesus was tempted by these same 3 seductions and temptations.

How to put to death the shame connected to sin and temptation.

How the key to spiritual freedom comes from understanding our true identity.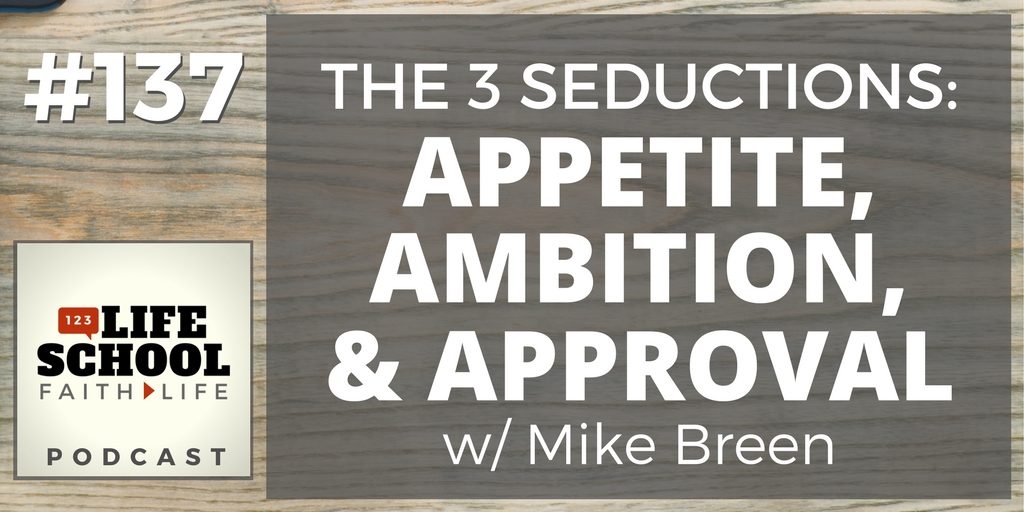 Whatever you've done in your life, any areas where you've given into temptation and sin, the conversation with God starts with, "There is no condemnation for those who are in Christ," (Romans 8:1) and it ends with, "despite all these things, overwhelming victory is ours through Christ, who loved us." (Romans 8:37)
Each week the Big 3 will give you immediate action steps to get you started.
Download today's BIG 3 right now. Read and think over them again later. You might even want to share them with others…
Thanks for Listening!
Thanks so much for joining us again this week. Have some feedback you'd like to share? Join us on Facebook and take part in the discussion!
If you enjoyed this episode, please share it using the social media buttons you see at the top of this page or right below.
Also, please leave an honest review for The Lifeschool Podcast on iTunes. Ratings and reviews are extremely helpful and greatly appreciated! They do matter in the rankings of the show, and we read each and every one of them.

Links and Resources Mentioned in This Episode:
Free Download of the Big 3 For Episode #137
Missio Publishing – More Missional Books and Resources
Mike Breen's Blog – More smart stuff!