195: 4 Truths About God That Will Challenge Your Parenting
What you believe about God, overall and in the moment, affects how you parent your kids. Sometimes what we say we believe, and what our actions show we believe, are far apart.
This week on the Lifeschool Podcast, we'll give you 4 truths about God that will forever challenge, and hopefully change, your parenting. And BTW, this will apply to the hearts of non-parents too… trust me!
Parenting is hard work. Every parent understands this. And if we're being honest, at times, we've wondered if we're doing this right or totally screwing up our kids!
In This Episode You'll Learn:
Parenting is NOT primarily about behavioral modification.

Why if you don't believe God is

truly great,

you'll try to control everything in your kids' life.

The truth about God that is behind all of your kids' actions (and yours).

4 truths about God (his character and how he acts in the world) that dramatically speak into how we're currently parenting.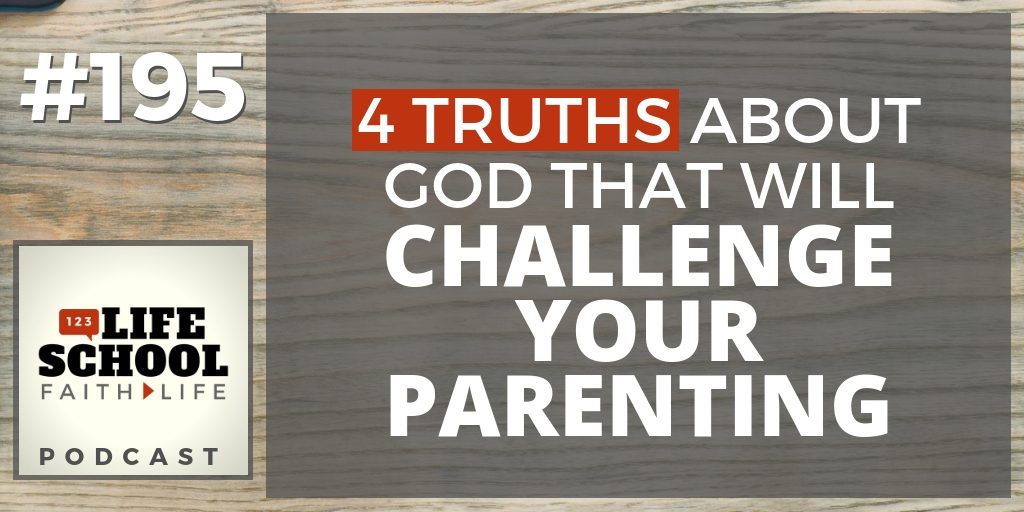 From this episode:
"I don't want to talk about tricks and tactics on how to get your kids to DO this or STOP doing that… we'll leave that to James Dobson. Parenting is not just about behavioral modification.  Today I want to address our own underlying faith and belief in who God is and how that speaks into how we GET to parent our children."
Each week the Big 3 will give you immediate action steps to get you started.
Download today's BIG 3 right now. Read and think over them again later. You might even want to share them with others…
Thanks for Listening!
Thanks so much for joining us again this week. Have some feedback you'd like to share? Join us on Facebook and take part in the discussion!
If you enjoyed this episode, please share it using the social media buttons you see at the top of this page or right below.
Also, please leave an honest review for The Lifeschool Podcast on iTunes. Ratings and reviews are extremely helpful and greatly appreciated! They do matter in the rankings of the show, and we read each and every one of them.

Links and Resources Mentioned in This Episode:
Free Download of the Big 3 For Episode #195
(Includes 4 Gs Poster download)

Missio Publishing – More Missional Books and Resources
Caesar Kalinowski's Website and Blog with Loads of Resources
In light of today's topics, you might find these posts and videos helpful: