We Live With Peace Because God Is Glorious
The peace Jesus came to bring was not coercive or backed up by military might, and it was not the type of peace that most of the world was looking for. The announcement of the Messiah's birth heralded something different and transformational.
In this episode of the Everyday Disciple Podcast, Caesar continues the Advent Series as he looks at the truth that God is glorious so we don't have to fear others! Believing this leads us to peace in relationships, peace with ourselves, and peace with God.
In This Episode You'll Learn:
The second of four eternal truths about God that transforms us. (The 4 G's)
The ways that the "fear of man" may be ruining your life and relationships.
How Jesus came to bring peace to all of mankind and the world.
How to find the unbelief and actions that are keeping you from having peace.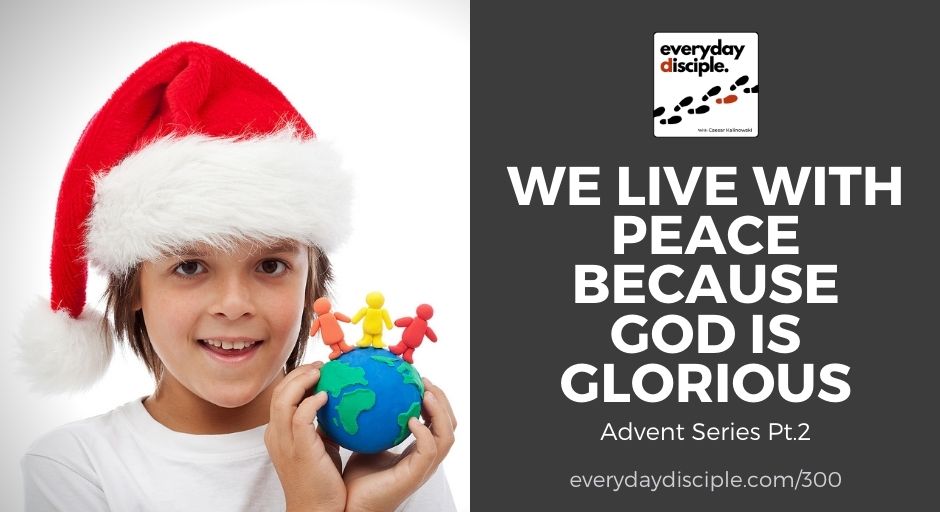 From this episode:
"Think about what your fears and the need for other's approval have produced in your heart and life… comparisons to others, avoiding any or all confrontations or deeper conversations, susceptibility to peer pressure, or the need to always be liked by everyone. Do you enjoy living this way? The answer to the fear of man in our lives is a bigger understanding of the fear of God and his true glory. For those who trust Jesus, the fear of God no longer involves terror; he's our Father, and we come before him with confidence through Christ."
Each week the Big 3 will give you immediate action steps to get you started.

Download today's BIG 3 right now. Read and think over them again later. You might even want to share them with others…
Thanks for Listening!
Thanks so much for joining us again this week. Have some feedback you'd like to share? Join us on Facebook and take part in the discussion!
If you enjoyed this episode, please share it using the social media buttons you see at the top of this page or right below.
Also, please subscribe and leave an honest review for The Everyday Disciple Podcast on Apple Podcasts or wherever you listen. Ratings and reviews are extremely helpful and greatly appreciated! They do matter in the rankings of the show, and we read each and every one of them.
Links and Resources Mentioned in This Episode:
Free Download of the Big 3 For Episode #300
Coaching with Caesar and Tina in discipleship and missional living.
Free Discipleship and Missional Resources