God Is Good So We Can Find Joy In Our Life
For hundreds of years, the church has anticipated the coming of Jesus during the season of Advent. Into this space, this void, the angels announced to the shepherds the good news of Jesus that would bring great joy to all people. 
In this episode of the Everyday Disciple Podcast, Caesar continues the Advent Series as he looks at the truth that God is good so we can find satisfaction and joy. Believing that God always does what is good, right, and perfect will change how you view everything and everyone in your life!
In This Episode You'll Learn:
The third of four eternal truths about God that transforms us. (The 4 G's)
Why we search for satisfaction and joy to fill the "hunger" in our lives.
How Jesus is the better fulfillment of all your hunger and lack of joy!
How to find the unbelief and actions that are keeping you from finding joy.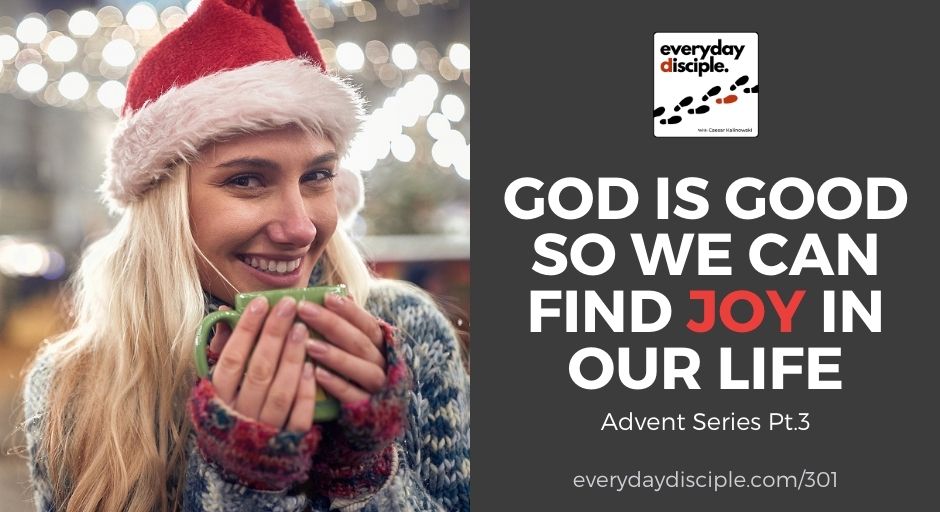 From this episode:
"God created us with hunger for our own Good. God isn't manipulating us, but sustaining us – keeping us alive. The very fact that we are the 'created' and He is the 'Creator' proves that we need him – we wouldn't exist without him – He is the source of all life. God is the greatest and most glorious being that exists, and he created us as an expression of who he is. Our hunger is a continual reminder that this is all about him and not us – our ongoing need reminds us that God is the one we turn to for life."
Each week the Big 3 will give you immediate action steps to get you started.

Download today's BIG 3 right now. Read and think over them again later. You might even want to share them with others…
Thanks for Listening!
Thanks so much for joining us again this week. Have some feedback you'd like to share? Join us on Facebook and take part in the discussion!
If you enjoyed this episode, please share it using the social media buttons you see at the top of this page or right below.
Also, please subscribe and leave an honest review for The Everyday Disciple Podcast on Apple Podcasts or wherever you listen. Ratings and reviews are extremely helpful and greatly appreciated! They do matter in the rankings of the show, and we read each and every one of them.
Links and Resources Mentioned in This Episode:
Free Download of the Big 3 For Episode #301
Coaching with Caesar and Tina in discipleship and missional living.
Free Discipleship and Missional Resources