We Can Experience Love Because God is Gracious
A recent survey asked, "If you could say in one word what you want more of in life, what would that be?" Very surprisingly, LOVE didn't even make the top 10! Could it be that money and fleeting happiness have replaced the need for love in our lives?
In this episode of the Everyday Disciple Podcast, Caesar concludes the Advent Series as he talks about the truth that because God is gracious, we can experience love in the deepest ways. 
In This Episode You'll Learn:
The final look at four eternal truths about God that transforms us. (The 4 G's)
Why we

don't know or

understand

true love in our lives and relationships.

How we no longer have to perform for God, and why we don't get to.
Why it's important to understand what we actually deserve from God.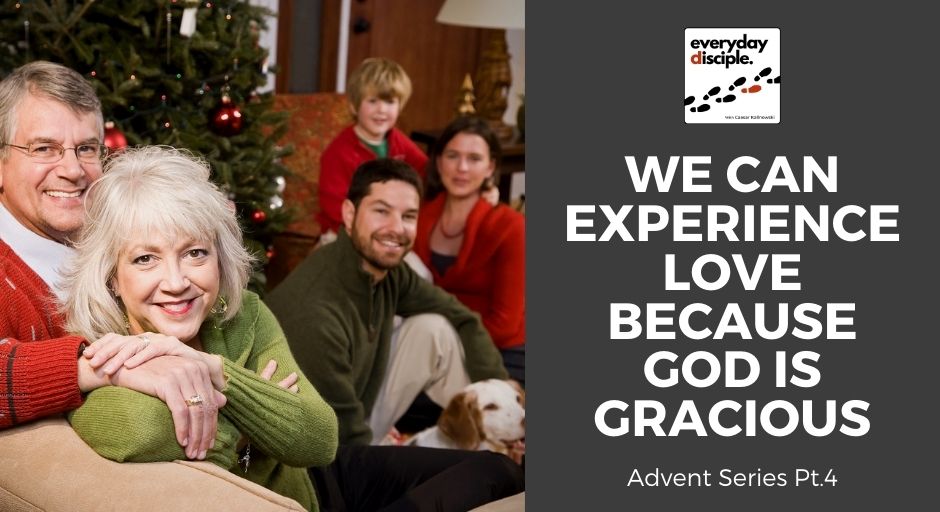 From this episode:
"When we don't believe we have God's grace, we try to prove ourselves to other people. I want other people to be impressed by me. We may want to fit in or get other people's approval. I want to earn their love. And we certainly don't want other people finding out what we're like inside. We wear masks to hide our real selves from people. Wearing the mask can be a great strain: it's like acting a role all the time. But we dare not let other people see us as we really are."
Each week the Big 3 will give you immediate action steps to get you started.

Download today's BIG 3 right now. Read and think over them again later. You might even want to share them with others…
Thanks for Listening!
Thanks so much for joining us again this week. Have some feedback you'd like to share? Join us on Facebook and take part in the discussion!
If you enjoyed this episode, please share it using the social media buttons you see at the top of this page or right below.
Also, please subscribe and leave an honest review for The Everyday Disciple Podcast on Apple Podcasts or wherever you listen. Ratings and reviews are extremely helpful and greatly appreciated! They do matter in the rankings of the show, and we read each and every one of them.
Links and Resources Mentioned in This Episode:
Free Download of the Big 3 For Episode #302
Coaching with Caesar and Tina in discipleship and missional living.
Get Caesar's latest book: Bigger Gospel for FREE… Click here.