Was 2020 The Craziest Year Ever?!
A global pandemic, social distancing. and lockdowns, relief checks, protests, massive business closures, worldwide contentious political climate, emergency vaccinations… was 2020 the craziest year ever?! 
In this episode, Caesar and his special guest, Heath Hollensbe, catch up on all that has happened in their lives this year, what they're learning from all of this, and what (hopefully) 2021 has in store. You will love this end of year wrap-up!
In This Episode You'll Learn:
What Heath has been up to in 2020 since his role change on the podcast.

Caesar and Heath's High/Low/Buffalo from the past (crazy) year. (Heath found a shrimp in his can of 7-Up!)
What we've learned about God and ourselves in 2020.
Some new changes coming to the show in the year ahead.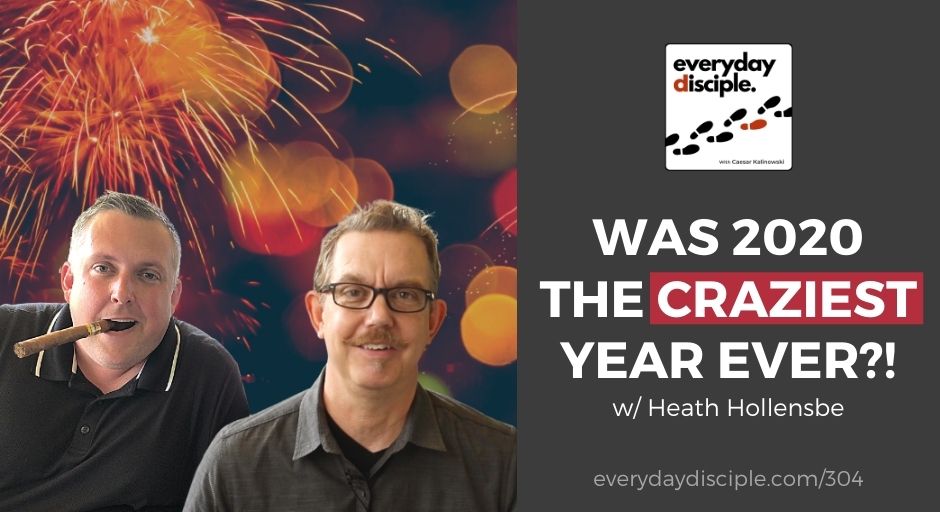 From this episode:
"We appreciate each and every one of you who regularly tune in to the podcast and leave us reviews, ideas for new episodes and share the podcast with others. May God bless you in every way, and may you experience his amazing grace with abundance in the year ahead!"
Thanks for Listening!
Thanks so much for joining us again this week. Have some feedback you'd like to share? Join us on Facebook and take part in the discussion!
If you enjoyed this episode, please share it using the social media buttons you see at the top of this page or right below.
Also, please subscribe and leave an honest review for The Everyday Disciple Podcast on Apple Podcasts or wherever you listen. Ratings and reviews are extremely helpful and greatly appreciated! They do matter in the rankings of the show, and we read each and every one of them.
Links and Resources Mentioned in This Episode:
Coaching with Caesar and Tina in discipleship and missional living.
Get Caesar's latest book: Bigger Gospel for FREE… Click here.