Top 10 Roadblocks to Discipleship and Mission
"If I've heard it once I've heard it a thousand times!" We hear the most common excuses, fears, and roadblocks to discipleship and mission over and over. The reason they come up so often is… they must be real. Or at least we think they are.
This week on the Lifeschool Podcast, we'll share (from our listeners and students) the top 10 roadblocks to discipleship and mission we run into all the time. We'll discuss what's really lurking behind each of these, and give you a way around each roadblock.
It can be easy to stay "stuck" and make excuses for why we're not really engaged in discipleship and mission in our lives. Or not as far along as we'd like to be. But it doesn't have to stay that way!
In This Episode You'll Learn:
The Top 10 roadblocks to discipleship and mission.

What is

really

behind each of these perceived barriers. (Most are not roadblocks at all!)

Diagnostic questions to ask yourself to move beyond each of these.

The surprising "roadblock" that smashes most (or all) of the rest!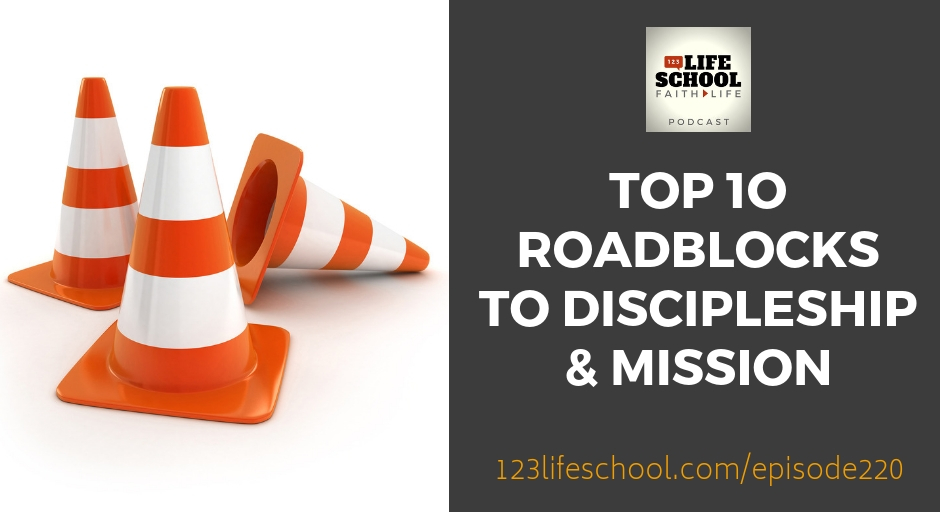 From this episode:
"Am I living my life, (and teaching my kids, my church and others) that my glory and comfort are really my top priority by how I spend my time and resources? Am I letting my religious traditions guide my spiritual growth– or letting the Holy Spirit guide me deeper into life and community with others for HIS glory?"
Each week the Big 3 will give you immediate action steps to get you started.
Download today's BIG 3 right now. Read and think over them again later. You might even want to share them with others…
Thanks for Listening!
Thanks so much for joining us again this week. Have some feedback you'd like to share? Join us on Facebook and take part in the discussion!
If you enjoyed this episode, please share it using the social media buttons you see at the top of this page or right below.
Also, please leave an honest review for The Lifeschool Podcast on iTunes. Ratings and reviews are extremely helpful and greatly appreciated! They do matter in the rankings of the show, and we read each and every one of them.

Links and Resources Mentioned in This Episode:
Free Download of the Big 3 For Episode #220
Balancing Family Life and Ministry Life