199: The Truth About Tithing: Is It Biblical?
Christians are taught that we should be giving 10% of everything we earn to the church. Is the practice of tithing still in effect for us today, or is it time to reconsider this practice?
This week on the Lifeschool Podcast, we'll look at the truth about tithing. Is it biblical? Are we under-giving or over-giving if we are tithing, and how might we give in light of the gospel?
The practice of tithing can be found in the Bible well before God gave the Law to Moses. The Israelites gave offerings well beyond a tithe of their earnings each year. But what about this system of giving to the church today? Jesus has some interesting things to say about money and living a life of generosity.
In This Episode You'll Learn:
The three types of tithes God mandated Israel to give in the Law.

What tithes and offerings were used for in the Old Testament.

What Jesus taught about giving and how it reflects our hearts.

Should we be giving to support new sound systems and programs?

How the Gospel informs our giving and support of the Church today.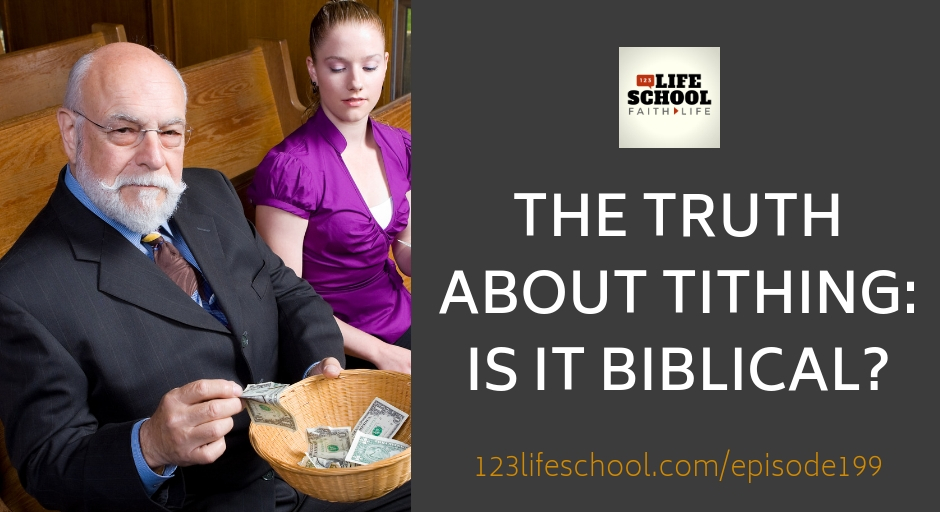 From this episode:
"Empowered by God working within us, we're now called, like our Lord Jesus, to lay down our lives for others. This includes sacrificially giving of ourselves—our time, possessions, talents… our plans—out of love for God and for others."
Each week the Big 3 will give you immediate action steps to get you started.
Download today's BIG 3 right now. Read and think over them again later. You might even want to share them with others…
Thanks for Listening!
Thanks so much for joining us again this week. Have some feedback you'd like to share? Join us on Facebook and take part in the discussion!
If you enjoyed this episode, please share it using the social media buttons you see at the top of this page or right below.
Also, please leave an honest review for The Lifeschool Podcast on iTunes. Ratings and reviews are extremely helpful and greatly appreciated! They do matter in the rankings of the show, and we read each and every one of them.

Links and Resources Mentioned in This Episode:
Free Download of the Big 3 For Episode #199
Missio Publishing – More Missional Books and Resources
Caesar Kalinowski's Website and Blog with Loads of Resources
In light of today's topics, you might find these posts and videos helpful: