166: How to Understand and Talk About Climate Change
Global warming: it's one of the hottest scientific and political issues of today. But we've all found ourselves asking…
It's freezing outside—where's global warming now?

The climate is always changing—how do we know this isn't just a cycle?

Why should Christians care about global warming when we know the world won't end that way?
This week on the Lifeschool Podcast, listen to Katharine Hayhoe, a climate scientist and evangelical Christian, who absolutely blew Caesar and Heath's mind on this topic with her grace and wisdom. This will change you!
Katharine says she gets slammed every day on social media for her contributions to establishing that climate change is human-made. But she's learned that most people don't really have a problem with the science or even the theology of climate change. People's real objections are based on the fact that they believe the solutions to climate change conflict with their ideology and even identity.
In This Episode You'll Learn:
The difference between climate change and global warming.

Some hard statistics (and truth) about our weather patterns.

What the Bible teaches about stewarding the environment.

Why Christians are the

perfect

people to care about climate change.

First and next steps to get involved in the solutions (these are easy!).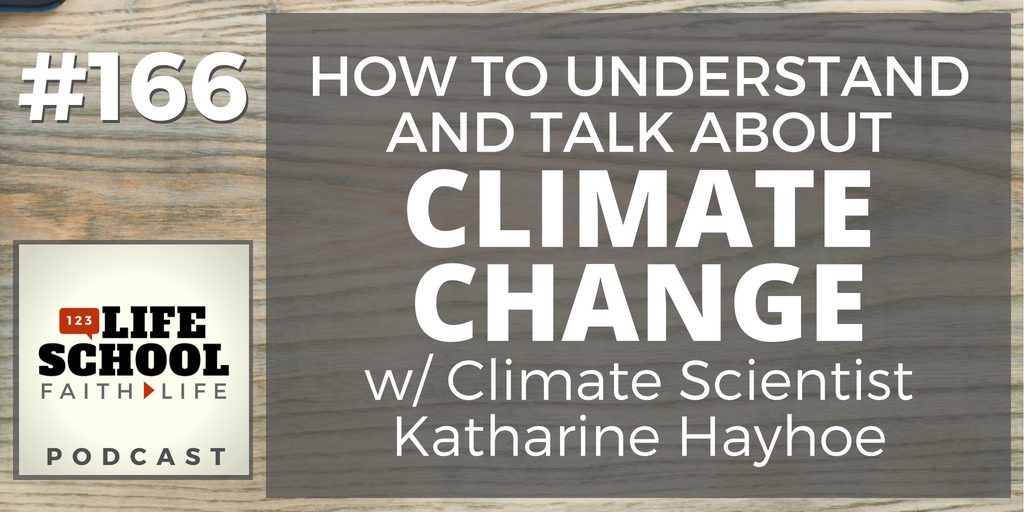 From this episode:
"I don't accept global warming on faith: I crunch the data, I analyze the models, I help engineers and city managers and ecologists quantify the impacts." ~ Katharine Hayhoe
Each week the Big 3 will give you immediate action steps to get you started.Download today's BIG 3 right now. Read and think over them again later. You might even want to share them with others…
Thanks for Listening!
Thanks so much for joining us again this week. Have some feedback you'd like to share? Join us on Facebook and take part in the discussion!
If you enjoyed this episode, please share it using the social media buttons you see at the top of this page or right below.
Also, please leave an honest review for The Lifeschool Podcast on iTunes. Ratings and reviews are extremely helpful and greatly appreciated! They do matter in the rankings of the show, and we read each and every one of them.

Links and Resources Mentioned in This Episode:
Free Download of the Big 3 For Episode #166
Katharine's video: "What is Global Warming?"  
Katharine's book:
A Climate for Change: Global Warming Facts for Faith-Based Decisions
Missio Publishing – More Missional Books and Resources
Caesar Kalinowski's Website and Blog with Loads of Resources
In light of today's topics, you might find this video helpful:

.cf-scroll-wrapper { background: #00000075;}