More Surprising Trends For The Future Church
Because of the pandemic, restrictions on church gatherings will ultimately be measured in months or maybe years. No one knows for sure how or when this will resolve. And when things do re-open, it won't be an instant, overnight return to unlimited gathering sizes. Our rhythms of life as the church have forever changed!
In this episode of the Everyday Disciple Podcast, Caesar continues his conversation with church strategist and disciple-maker, Rob Wegner, discussing the trends that are emerging as the church embraces a new future.
In This Episode You'll Learn:
Why slow is fast as we seek to help our people make significant changes

Ways pastors will need to be humble to be able to lead in the future.

How church staff and budgets will be changing in the future.

Why a new reliance on the power of the Spirit must be embraced.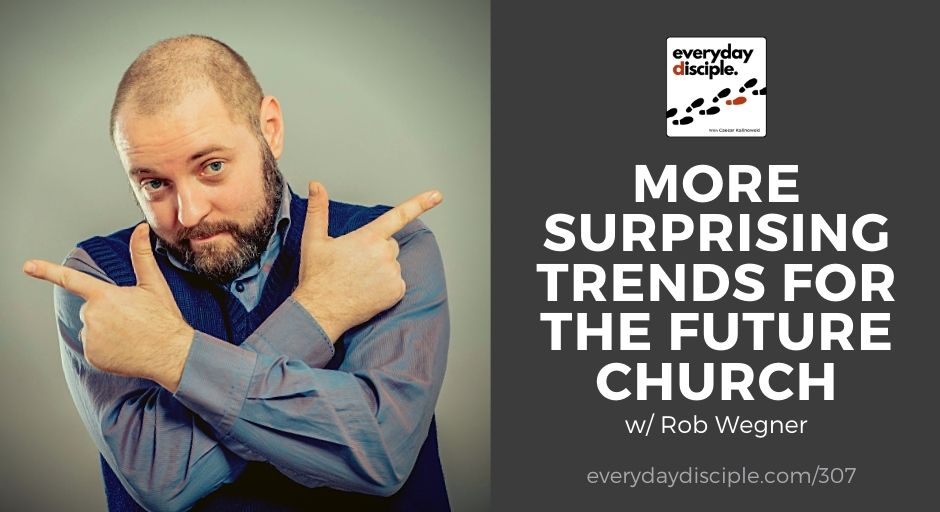 From this episode:
"If you're discouraged as a leader because you realize you haven't made disciples… or really never been discipled yourself, listen, what Caesar just said is true: The same Spirit that raised Jesus from the dead is in you, and there are people like Caesar that will help… God will give you the coach you need, and you can do this. It's not too late. I don't care how old you are."
Each week the Big 3 will give you immediate action steps to get you started.

Download today's BIG 3 right now. Read and think over them again later. You might even want to share them with others…
Thanks for Listening!
Thanks so much for joining us again this week. Have some feedback you'd like to share? Join us on Facebook and take part in the discussion!
If you enjoyed this episode, please share it using the social media buttons you see at the top of this page or right below.
Also, please subscribe and leave an honest review for The Everyday Disciple Podcast on Apple Podcasts or wherever you listen. Ratings and reviews are extremely helpful and greatly appreciated! They do matter in the rankings of the show, and we read each and every one of them.
Links and Resources Mentioned in This Episode:
Register: Everyday Disciple Challenge: Future Church Edition
Free Download of the Big 3 For Episode #307