Emerging Trends For The Future Church
By now you're probably figuring out that the Coronavirus pandemic and related social distancing has produced more of a disruption than just a temporary interruption for your Church.
In this episode of the Everyday Disciple Podcast, Caesar talks with church strategist and disciple-maker, Rob Wegner, about some positive (and not-so-positive) trends that are emerging in the new realities of the future church.
In This Episode You'll Learn:
Ways that many churches have experienced GROWTH during the pandemic.

Will your church continue to live stream their Sunday services?

How church buildings may be repurposed in the future.

How the traditional sermon is being reimagined for our times.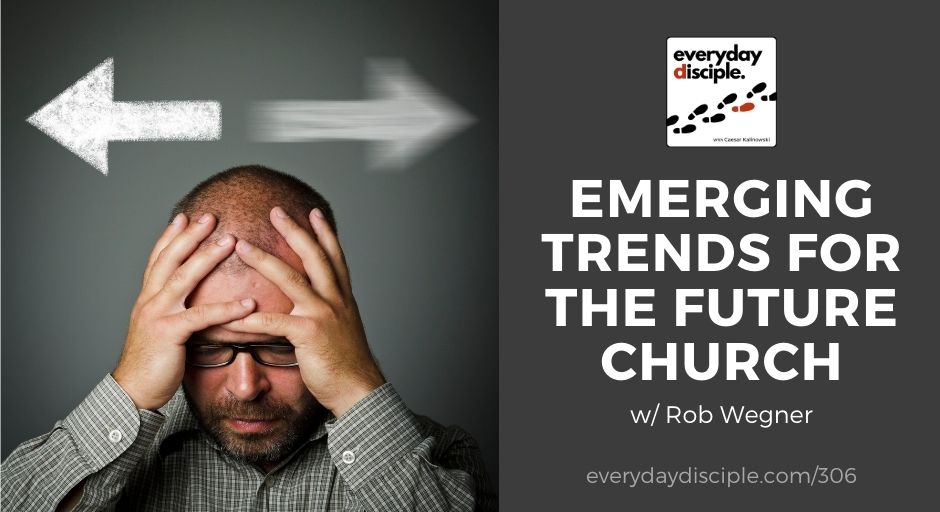 From this episode:
"Yeah, we are meeting; we met last week for the first time. And this person of peace in our neighborhood says, 'How many people showed up? 6 families?… I wasn't there!' And this lady shows up the next week with six more families, so they had like 13 families doing a discovery type Bible study together. When things started to loosen up with the social distancing in the summer, it emerged into this full micro-church life together. Mostly non-believers!"
Each week the Big 3 will give you immediate action steps to get you started.

Download today's BIG 3 right now. Read and think over them again later. You might even want to share them with others…
Thanks for Listening!
Thanks so much for joining us again this week. Have some feedback you'd like to share? Join us on Facebook and take part in the discussion!
If you enjoyed this episode, please share it using the social media buttons you see at the top of this page or right below.
Also, please subscribe and leave an honest review for The Everyday Disciple Podcast on Apple Podcasts or wherever you listen. Ratings and reviews are extremely helpful and greatly appreciated! They do matter in the rankings of the show, and we read each and every one of them.
Links and Resources Mentioned in This Episode:
Register: Everyday Disciple Challenge: Future Church Edition
Free Download of the Big 3 For Episode #306