155: Is Evangelism Changing in the Church Today?
Have most of us Christians given up on traditional forms of sharing our faith? Let's be honest… It's scary to risk things relationally, and the results are often disappointing.
In this episode of the Lifeschool Podcast, we talk about the ways that many Christians experience (or avoid) evangelism. And we ask the question: Is evangelism changing in the church today?
Many people still associate evangelism with a Billy Graham approach, door-to-door soul winning, or strategic speeches that "share the Gospel".  But what if the biblical precedent was more of a normal day-to-day rhythm?
In This Episode You'll Learn:
What "evangelism" really is and what it looked and sounded like in the Bible.

Why

evangelism and discipleship were never meant to be two separate activities or practices.

How discipleship

must

include ongoing evangelism for Believers and unbelievers alike.

Your

responsibility when it comes to evangelism.

How the Good News of the gospel speaks into

all

of life…not just our 'sin problem'.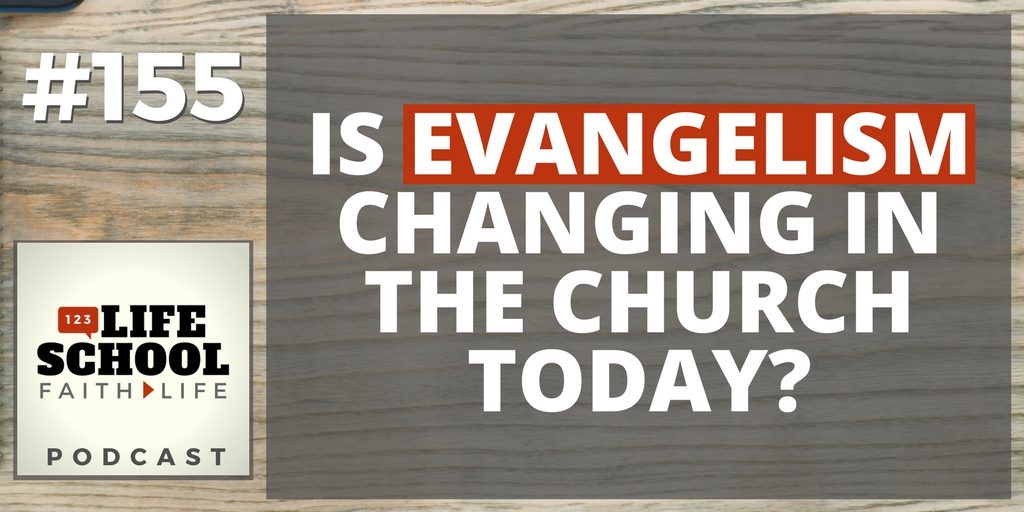 Jesus came to save the world, not condemn it. We have all received grace upon grace and endless mercies. It is God's kindness that leads people to repentance, not our stern warnings, accusations, or perfect evangelistic presentations!
Each week the Big 3 will give you immediate action steps to get you started.
Download today's BIG 3 right now. Read and think over them again later. You might even want to share them with others…
Thanks for Listening!
Thanks so much for joining us again this week. Have some feedback you'd like to share? Join us on Facebook and take part in the discussion!
If you enjoyed this episode, please share it using the social media buttons you see at the top of this page or right below.
Also, please leave an honest review for The Lifeschool Podcast on iTunes. Ratings and reviews are extremely helpful and greatly appreciated! They do matter in the rankings of the show, and we read each and every one of them.

Links and Resources Mentioned in This Episode:
Free Download of the Big 3 For Episode #155
Caesar's book: Bigger Gospel: A Practical Guide to Growing in Gospel Fluency
Caesar Kalinowski's Website and Blog with Loads of Resources