Is It Time to Leave Your Church?
Is it time to leave your church? You didn't always feel this way…but lately, you've had a nagging discomfort that it may be time to leave and find a new church home. But you wonder, "Is it just me?!"
This week on the Lifeschool Podcast, we'll try and help you make that decision. We give you 7 legitimate reasons why it may be time to leave your church, and some cautions you may want to heed first.
If you're thinking about leaving your current local church, ask yourself why you originally started engaging with this particular church body. What did you like about it? What drew you to it… and what's changed? How might God want to use you to change things about it? Or… what might God be wanting to teach you and your family by staying part of this church?
In This Episode You'll Learn:
How your "Church" is people… and that includes you!
Why God may want to keep you right where you're at.
7 legitimate reasons why it may be time to leave.
Key rhythms of life that equal "gathering together" as the Church.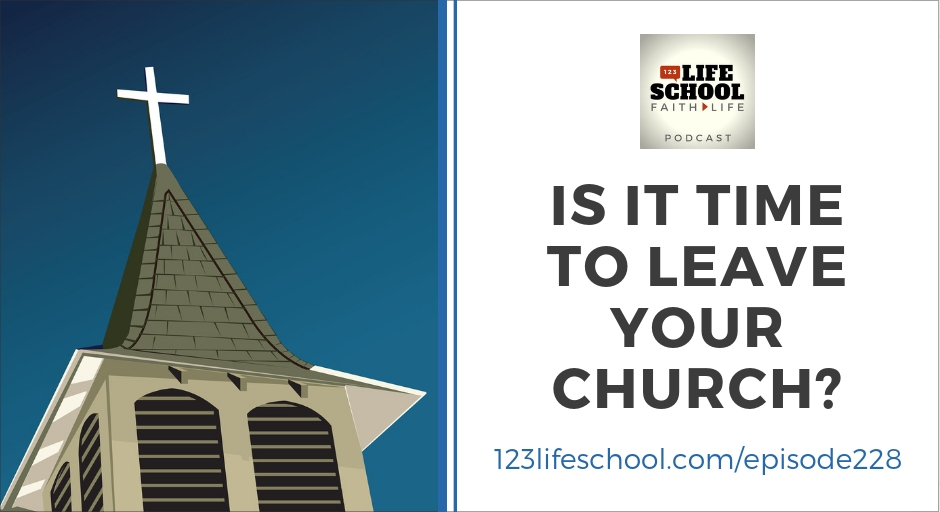 From this episode:
"I really do believe that the Bible teaches that the oikos/missional community is the primary organizing structure of the church. We all need that. That's what we see in scripture. Are you part of a "family on mission"… an oikos that is increasingly hanging out as God's family, experiencing the transformation of the gospel in all of life?"
Each week the Big 3 will give you immediate action steps to get you started.
Download today's BIG 3 right now. Read and think over them again later. You might even want to share them with others…
Thanks for Listening!
Thanks so much for joining us again this week. Have some feedback you'd like to share? Join us on Facebook and take part in the discussion!
If you enjoyed this episode, please share it using the social media buttons you see at the top of this page or right below.
Also, please leave an honest review for The Lifeschool Podcast on iTunes. Ratings and reviews are extremely helpful and greatly appreciated! They do matter in the rankings of the show, and we read each and every one of them.
Links and Resources Mentioned in This Episode:
Free Download of the Big 3 For Episode #228
Enroll for the Everyday Disciple Challenge 4 Days of FREE training Live on Facebook.
Register NOW for Cigars & Theology LIVE