202: How to Do Church Discipline with Love and Purpose
Church discipline is a term found nowhere in the Bible. But its taught, often necessary, and it is usually very difficult to practice in ways that show the love of God. And many of us, and those we know, have been hurt by churches not doing this correctly.
This week on the Lifeschool Podcast, we discuss how to do church discipline with love and purpose… instead of just "handing people over to Satan" and being done with them. :-/
[spp-player]
So much of what is written about church discipline is steeped in old covenant, temple theology, and language. It's taught as if Jesus never came and died for all of our sins already; forgetting that we are now the righteousness of Christ. What should be the goal and purpose of church discipline?
In This Episode You'll Learn:
How 'discipline' and 'disciple' have the same root meaning and goals.

How Jesus' teaching in Matthew 18 may surprise you when read in its full context.

Who should be involved with doing church discipline and when.

What it really means to "turn someone over to Satan".

Practical steps for addressing someone who has sinned against you.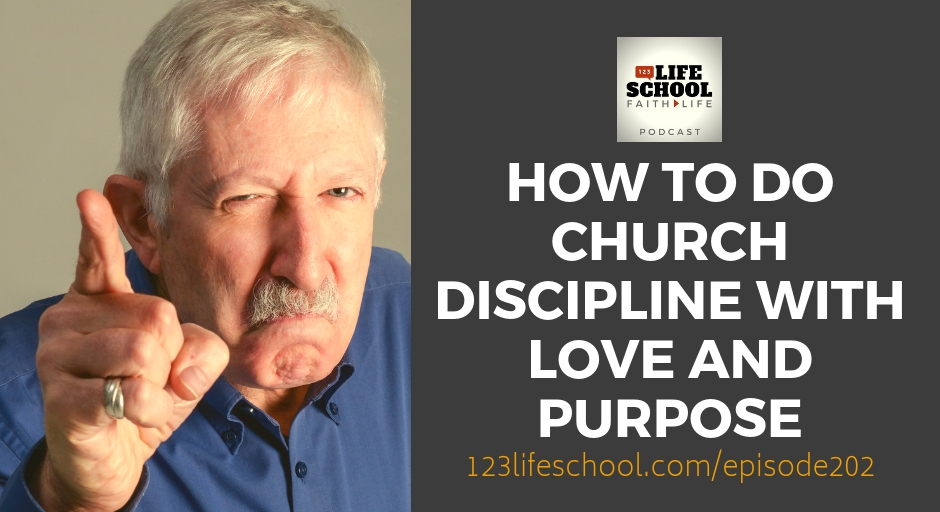 From this episode:
"It is rare that we, ourselves, don't also have at least some role in the situation where someone has hurt us or sinned against us. A good starting point is to humble ourselves and seek the other person's forgiveness before approaching them about their sin against us. I think you'll be surprised at what will happen after that!"
Each week the Big 3 will give you immediate action steps to get you started.
Download today's BIG 3 right now. Read and think over them again later. You might even want to share them with others…
Thanks for Listening!
Thanks so much for joining us again this week. Have some feedback you'd like to share? Join us on Facebook and take part in the discussion!
If you enjoyed this episode, please share it using the social media buttons you see at the top of this page or right below.
Also, please leave an honest review for The Lifeschool Podcast on iTunes. Ratings and reviews are extremely helpful and greatly appreciated! They do matter in the rankings of the show, and we read each and every one of them.

Links and Resources Mentioned in This Episode:
Free Download of the Big 3 For Episode #202
Missio Publishing – More Missional Books and Resources
Caesar Kalinowski's Website and Blog with Loads of Resources
In light of today's topics, you might find these posts and videos helpful: