5 Stereotypes Christians Need To Change
We all seem to put people into a box–labeling them in ways that we can either easily dismiss, or categorically aspire to, without really getting into the messiness of really knowing them. Most are likely to say that stereotypes are not true, yet they still exist and influence our perceptions in profound ways.
This week on the Lifeschool Podcast, we look at the reality that not only have we stereotyped certain people and groups in life, but the same has happened to us. We'll talk about changing five stereotypes Christians are known for.
In This Episode You'll Learn:
Why humans tend to want to stereotype and label others.
Ways that the media shapes unhelpful stereotypes about Christians.
How Jesus was hard to label because he moved in a "third way".
5 stereotypes that Christians need to change about us immediately.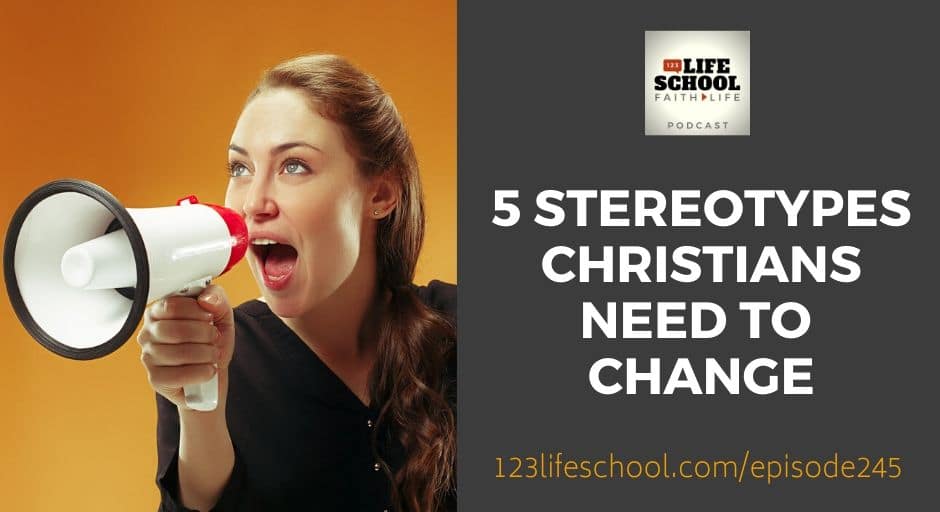 From this episode:
"I fear that some of our listeners may want us to come down way harder left or right on this issue, but again I have to say, my heart breaks that culturally there exists a stereotype that says that Christians, God's kids, and by extension maybe God himself, is anti-anybody. That goes so against the gospel!"
Each week the Big 3 will give you immediate action steps to get you started.
Download today's BIG 3 right now. Read and think over them again later. You might even want to share them with others…
Thanks for Listening!
Thanks so much for joining us again this week. Have some feedback you'd like to share? Join us on Facebook and take part in the discussion!
If you enjoyed this episode, please share it using the social media buttons you see at the top of this page or right below.
Also, please leave an honest review for The Lifeschool Podcast on iTunes. Ratings and reviews are extremely helpful and greatly appreciated! They do matter in the rankings of the show, and we read each and every one of them.
Links and Resources Mentioned in This Episode:
Free Download of the Big 3 For Episode #245
Caesar Kalinowski's Website and Blog with Loads of Resources
Missio Publishing – More Missional Books and Resources