How Baptism Shapes Our Identity and Culture
Whether we are aware of it or not, everyone is being "baptized." While the church baptizes believers in the name of the Father, Son, and Holy Spirit, the culture is baptizing us into the trinitarian values of consumption, production, and acquisition.
This week on the Lifeschool Podcast we talk with author and pastor Eric Peterson and get a pastoral perspective on the power of baptism to lead people deeply into a more sacred way of life.
When we operate out of our identity–believing that we are God's beloved children and that our heavenly Dad is really pleased with us–we can live in freedom and a deeper connection to others, seeing everyone as part of the same divine family. No longer do we need to prove our worth or importance or earn our Fathers affection.
In This Episode You'll Learn:
How our culture is constantly "baptizing" us in ways we may not be aware of.
Why Christian baptism reshapes our identity and worldview.
How the Church today has largely lost the full significance and power of baptism.
Ways to embrace the implications of your baptism throughout each day.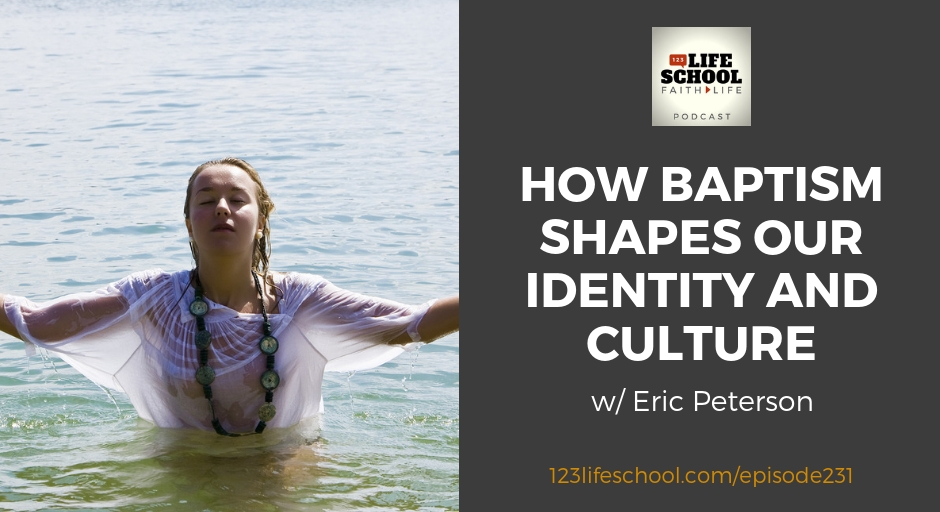 From this episode:
"Pay attention to how often water is present and its importance in your daily life. Let it remind you, like the sacrament of your baptism, that you are now immersed into your true and restored trinitarian identity. You can now live as a full-fledged member of God's family of missionary servants, sent as a disciple of Jesus into your world to make more disciples…filling the world with God's glory."
Each week the Big 3 will give you immediate action steps to get you started.
Download today's BIG 3 right now. Read and think over them again later. You might even want to share them with others…
Thanks for Listening!
Thanks so much for joining us again this week. Have some feedback you'd like to share? Join us on Facebook and take part in the discussion!
If you enjoyed this episode, please share it using the social media buttons you see at the top of this page or right below.
Also, please leave an honest review for The Lifeschool Podcast on iTunes. Ratings and reviews are extremely helpful and greatly appreciated! They do matter in the rankings of the show, and we read each and every one of them.
Links and Resources Mentioned in This Episode:
Free Download of the Big 3 For Episode #231
The book "Wade in the Water" by Eric Peterson
Caesar Kalinowski's Website and Blog with Loads of Resources
Missio Publishing – More Missional Books and Resources
In light of today's topics, you might find these posts and videos helpful:
Is the Medium Really the Message?