Gospel, Community, Mission: Why We Need All 3
The idea that 'Gospel, Community and Mission' is crucial to making mature disciples of Jesus may sound a little bit obvious to you at first. But it is surprising how few of us, and our churches, are careful to balance the focus and engagement of these powerful discipleship foundations. 
This week on the Lifeschool Podcast, we talk about why all three of these components must be consistently engaged in and balanced if we want disciples of Jesus to grow to full maturity.
In This Episode You'll Learn:
Why we are seeing a lack of maturity in the Church today among Christians.
How all 3… Gospel, Community, and Mission play a critical role in disciple-making.
What it looks like when you only engage 2 of these 3 foundations with others.
Practical resources for growing your people in Gospel, Community, and Mission.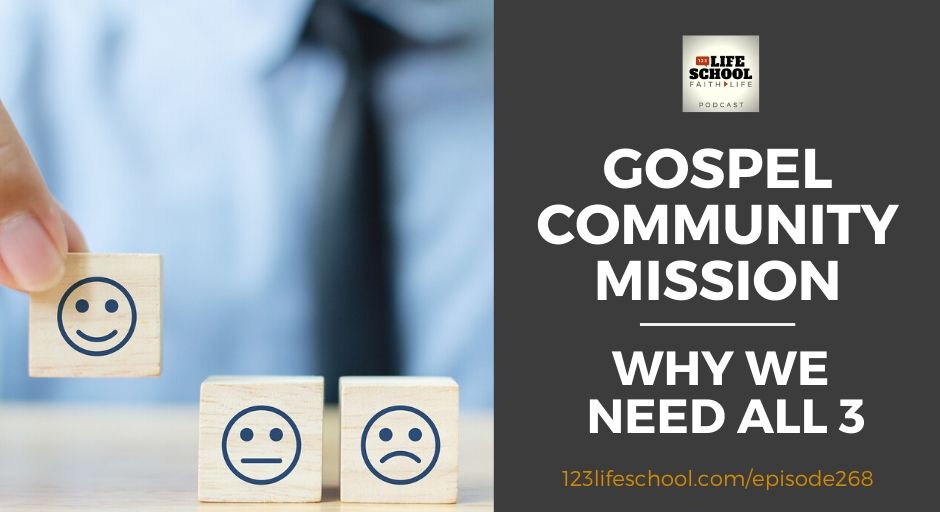 From this episode:
"It is when we are out on God's mission together, interacting with and serving others that are not exactly like us… or don't always agree with us or appreciate our lives and perspective… that's when our own unbelief, selfishness, personal preferences etc. all surface… and can then have the gospel applied to those areas of our lives. That doesn't happen sitting in an air-conditioned classroom, with lots of hot coffee and snacks in the back, us taking notes and nodding in agreement."
Each week the Big 3 will give you immediate action steps to get you started.

Download today's BIG 3 right now. Read and think over them again later. You might even want to share them with others…
Thanks for Listening!
Thanks so much for joining us again this week. Have some feedback you'd like to share? Join us on Facebook and take part in the discussion!
If you enjoyed this episode, please share it using the social media buttons you see at the top of this page or right below.
Also, please leave an honest review for The Lifeschool Podcast on Apple Podcasts or wherever you listen. Ratings and reviews are extremely helpful and greatly appreciated! They do matter in the rankings of the show, and we read each and every one of them.
Links and Resources Mentioned in This Episode:
Free Download of the Big 3 For Episode #268
Check out the Gospel Primer, Tangible Kingdom Primer, and Justice Primer here.
Caesar's website with loads of free discipleship resources.
Missio Publishing – More Missional Books and Resources
In light of today's topic, you might also find this helpful:
Shifting Your Small Groups to Vibrant Missional Communities