Don't Pray For Church To Return To Normal
Sure, you might miss gathering at the church building. But God has given his Family an opportunity to hit the reset button on who we are and how we get to live and minister the Good News of the Kingdom of God in everyday life. People are waiting!
This week on the Lifeschool Podcast, we talk about why you don't want to be praying that your church goes back to what had been considered "normal" by way too many Christians and church leaders.
In This Episode You'll Learn:
If and when the Church will ever get back to "normal".
Encouraging new things we see the Church (people) doing today.
How rebooting all our programs might just kill us.
Practical steps to start building new discipleship framework and rhythms today that will pay off BIG in the "new normal".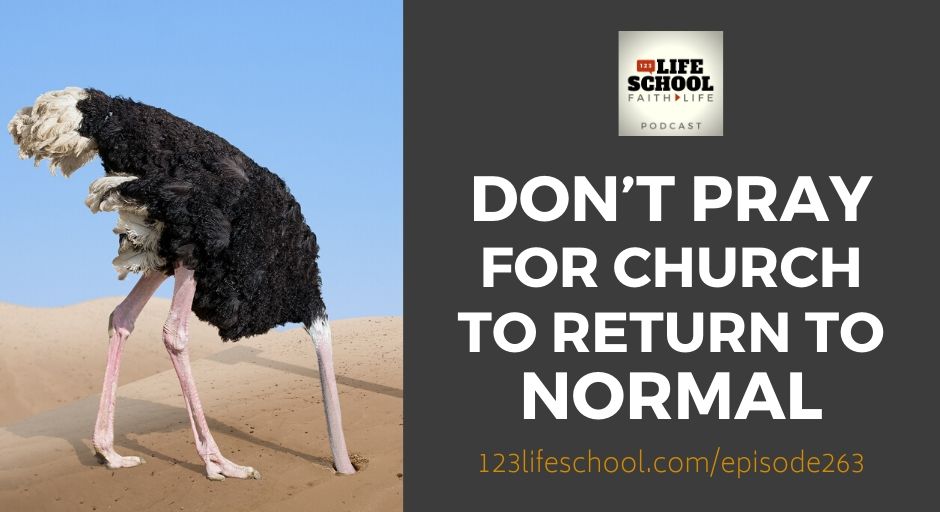 From this episode:
"It's time for 'low control and high accountability'… low control over what your folks specifically choose to do, but high accountability that they are actually engaging intentionally, blessing and bringing others along. This will be a time when your tendency is to just be 'nice' and encouraging but not lead and bring accountability. That will be poor leadership and self-love for fear of man… please don't do that."
Each week the Big 3 will give you immediate action steps to get you started.
Download today's BIG 3 right now. Read and think over them again later. You might even want to share them with others…
Thanks for Listening!
Thanks so much for joining us again this week. Have some feedback you'd like to share? Join us on Facebook and take part in the discussion!
If you enjoyed this episode, please share it using the social media buttons you see at the top of this page or right below.
Also, please leave an honest review for The Lifeschool Podcast on Apple Podcasts or wherever you listen. Ratings and reviews are extremely helpful and greatly appreciated! They do matter in the rankings of the show, and we read each and every one of them.
Links and Resources Mentioned in This Episode:
Free Download of the Big 3 For Episode #263
Everyday Disciple Incubator (Cohorts starting in April)