Christmas and Consumerism as Christians
There is no evidence that the disciples of Jesus, or the 1st Century church, ever celebrated Christmas or Jesus' birth as an annual holiday. And yet, many of us have been taught that consumerism has killed the true meaning of Christmas. Has it?!
This week on the Lifeschool Podcast, we look at the history of Christmas, how it started, and when the holiday took on religious significance as we talk about Christmas and consumerism as Christians.
In This Episode You'll Learn:
How many of our Christmas traditions got started.
When the Christian message and religion was added to the celebration.
The commercial roots of this annual holiday.
7+ ways you can still make Christmas about Jesus and the gospel.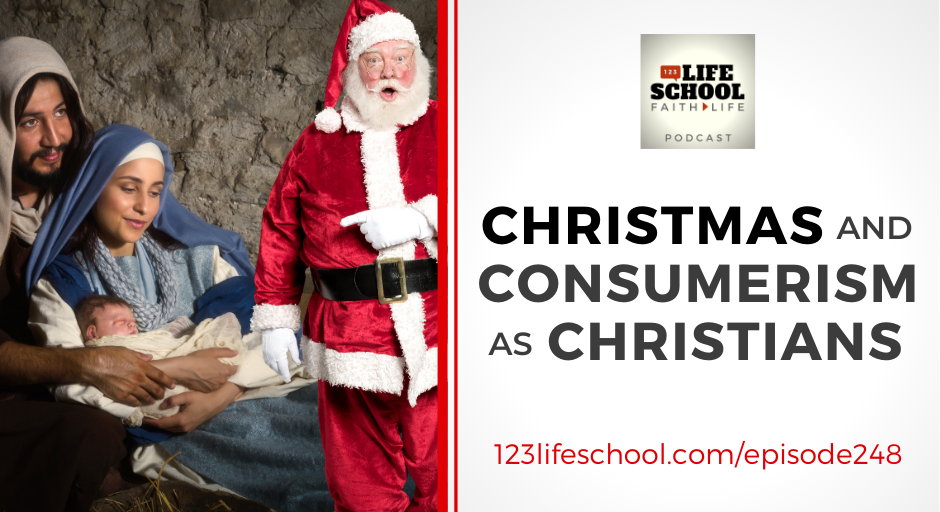 From this episode:
"If anything, religion was grafted onto consumerism, rather than consumerism grafted onto religion. But who or what is the focus of our celebration? Are we using it as an opportunity to help others move from unbelief to belief about what is true of God and Jesus… and us?"
Each week the Big 3 will give you immediate action steps to get you started.
Download today's BIG 3 right now. Read and think over them again later. You might even want to share them with others…
Thanks for Listening!
Thanks so much for joining us again this week. Have some feedback you'd like to share? Join us on Facebook and take part in the discussion!
If you enjoyed this episode, please share it using the social media buttons you see at the top of this page or right below.
Also, please leave an honest review for The Lifeschool Podcast on iTunes. Ratings and reviews are extremely helpful and greatly appreciated! They do matter in the rankings of the show, and we read each and every one of them.
Links and Resources Mentioned in This Episode:
Retreat in Tennessee w/ Caesar & Tina | May 24-30th, 2020
Free Download of the Big 3 For Episode #248
Caesar Kalinowski's Website and Blog with Loads of Resources
Missio Publishing – More Missional Books and Resources
In light of today's topic, you might find this helpful:
Birthright: Living Out of Our Transformed Identity