134: 7 Pillars of Society: How to Change Your World
It's easy to point fingers at "the culture" and think that it includes everyone else outside of ourselves. But we are the culture… and the culture is us.
Today on the Lifeschool podcast, we talk about how every culture is woven together in some pretty similar ways worldwide, and we'll look for clues from this so that, as Christians, we can find natural ways to engage "culture" and change the world… or at least your corner of it!
Historians and sociologists for decades have defined and classified society and culture by what is commonly referred to as "The 7 Pillars of Society". Not so surprisingly, all of us already live in and have influence within at least one or more of these 7 Pillars.
In This Episode You'll Learn:
How all societies throughout history share the same 7 Pillars of Society and are organized around them.

The role that Christianity and organized religion plays in society worldwide.

How to look at God's plan to restore all things through the lens of the 7 Pillars.

Why disciples making more disciples is all wrapped up in, and perfectly fits in every culture.

How you can begin to bless others and change your culture though intentionally engaging people within one of the Pillars in a way that already fits your life.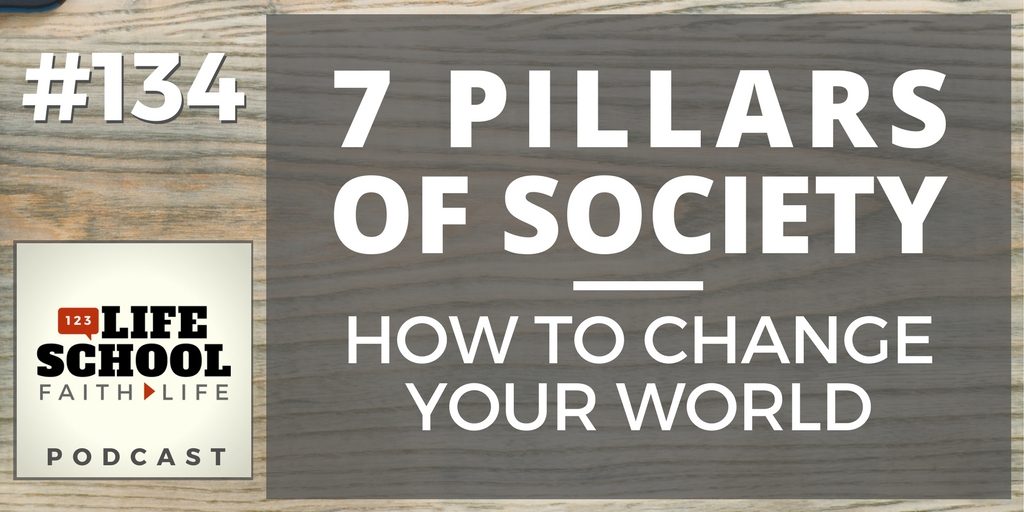 God has uniquely and sovereignly placed you right where he wants you within one or several of the Pillars. He has gifted you and given you relationships of trust within this segment of your culture already. The level of intentionality you bring to this will determine how effective you'll be at engaging and transforming this part of your culture.
Each week the Big 3 will give you immediate action steps to get you started.
Download today's BIG 3 right now. Read and think over them again later. You might even want to share them with others…
Thanks for Listening!
Thanks so much for joining us again this week. Have some feedback you'd like to share? Leave a note in the comment section below!
If you enjoyed this episode, please share it using the social media buttons you see at the top of this page or right below.
Also, please leave an honest review for The Lifeschool Podcast on iTunes. Ratings and reviews are extremely helpful and greatly appreciated! They do matter in the rankings of the show, and we read each and every one of them.

Links and Resources Mentioned in This Episode:
Free Download of the Big 3 For Episode #134
Missio Publishing – More Missional Books and Resources
Caesar Kalinowski's Website and Blog with Loads of Resources