Why It's Hard to Motivate People to Live on Mission
Have you found it hard–really hard–to move people toward embracing change lately? Are you finding it frustrating to motivate folks to reorient their lives around discipleship, serving others, and missional living… versus a consumeristic experience of the church?
In this episode of the Everyday Disciple Podcast, we'll tell you why the way you've learned to motivate people produces polarizing results. And we'll give you ways to initiate lasting change through more gospel-centered motivations.
In This Episode You'll Learn:
Why the old ways of "carrot and stick" ultimately fail to motivate people.
How the "DO=BE" distortion is in full effect in all of this.
The difference between the Legalist and the Gospel when motivating others.
How what we believe, love, and fear changes everything.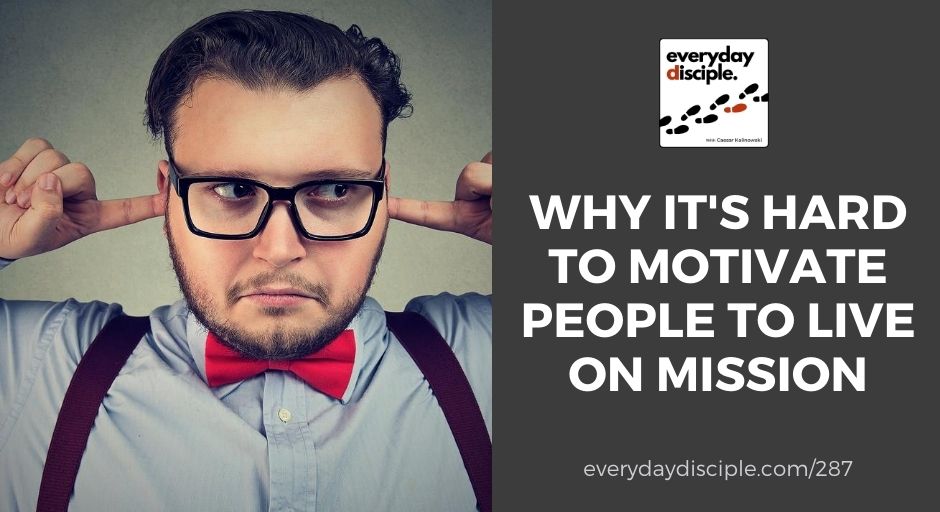 From this episode:
"All of these ways of trying to motivate others to do something new or accept a new way of being and living, all appeal to the same thing: Self. What's in it for me? In other words, the person you are trying to motivate is internally, subconsciously, asking themselves, with each of these types of 'motivators', what's in it for me? Will I gain authority or popularity, wealth, will I be seen as 'more'… how will this add to my sense of value and self-worth… in my own eyes, and the perception that others have of me."
Each week the Big 3 will give you immediate action steps to get you started.

Download today's BIG 3 right now. Read and think over them again later. You might even want to share them with others…
Thanks for Listening!
Thanks so much for joining us again this week. Have some feedback you'd like to share? Join us on Facebook and take part in the discussion!
If you enjoyed this episode, please share it using the social media buttons you see at the top of this page or right below.
Also, please subscribe and leave an honest review for The Everyday Disciple Podcast on Apple Podcasts or wherever you listen. Ratings and reviews are extremely helpful and greatly appreciated! They do matter in the rankings of the show, and we read each and every one of them.
Links and Resources Mentioned in This Episode:
Free Download of the Big 3 For Episode #287
Everyday Disciple: FREE Discipleship Resources and Training.
Missio Publishing – More Missional Books and Resources
In light of today's topic, you might also enjoy:
Is Your Parenting Style Transactional or Grace-based?