Our Need For Innovation in the Church Today
There was a time when Christians and the Church pioneered much of the future, shaping culture in profound ways, from business to art to justice reform. But along the way, that redemptive, adaptive movement began to institutionalize, leaving us change-averse and frozen in time.
In this episode of the Everyday Disciple Podcast, Caesar welcomes innovation strategist and author, Doug Paul, who uses surprising stories and cultural analysis to help explain five phases of Kingdom innovation and how leaders in the Church today can start leading change and innovation.
In This Episode You'll Learn:
What true innovation is and who are the best innovators.
Why most leaders haven't really innovated their churches during the pandemic.
5 (easy to grasp) phases of innovation.
How to get the training and tools you need to begin to lead change.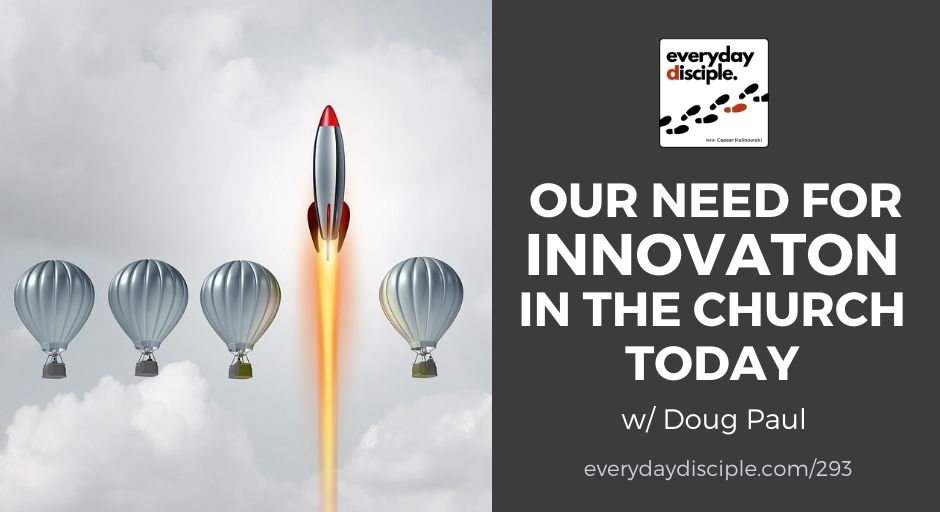 From this episode:
"Innovation is a skill and it's a muscle you can grow. You can learn how to do innovation. You weren't born to have it or not have it, and even people who think they're naturally good at it have a lot to learn. Fundamentally, in the world in which we now live, the Christian leader missing the skill of innovation is like a carpenter missing a hammer. It's not the only skill in the toolbelt, but not having it moving into the future, will be indefensible."
Each week the Big 3 will give you immediate action steps to get you started.

Download today's BIG 3 right now. Read and think over them again later. You might even want to share them with others…
Thanks for Listening!
Thanks so much for joining us again this week. Have some feedback you'd like to share? Join us on Facebook and take part in the discussion!
If you enjoyed this episode, please share it using the social media buttons you see at the top of this page or right below.
Also, please subscribe and leave an honest review for The Everyday Disciple Podcast on Apple Podcasts or wherever you listen. Ratings and reviews are extremely helpful and greatly appreciated! They do matter in the rankings of the show, and we read each and every one of them.
Links and Resources Mentioned in This Episode:
Free Download of the Big 3 For Episode #293
Ready or Not: Kingdom Innovation For a Brave New World by Doug Paul
Coaching with Caesar and Tina in discipleship and missional living.