How to Have Amazing Family Dinner Nights
Everyone I know feels maxed out on their schedules with the commitments they already have. Yet we are all living with a rhythm that provides one of the most valuable and recurring opportunities for discipleship in our families: Dinner.
This week on the Lifeschool Podcast, we show you how to re-tool and repurpose your Family Dinner Nights in a way that will make them fun, more focused, and a perfect way to naturally engage in discipleship and missional rhythms as a family.
In This Episode You'll Learn:
How few families are actually eating meals (with intention) together these days.
What you're missing out on if you are not having special family dinner nights.
Why your mealtimes are the best opportunity for discipleship as a family.
Step-by-step help to make your Family Dinner Nights an amazing part of your discipleship and an ongoing legacy.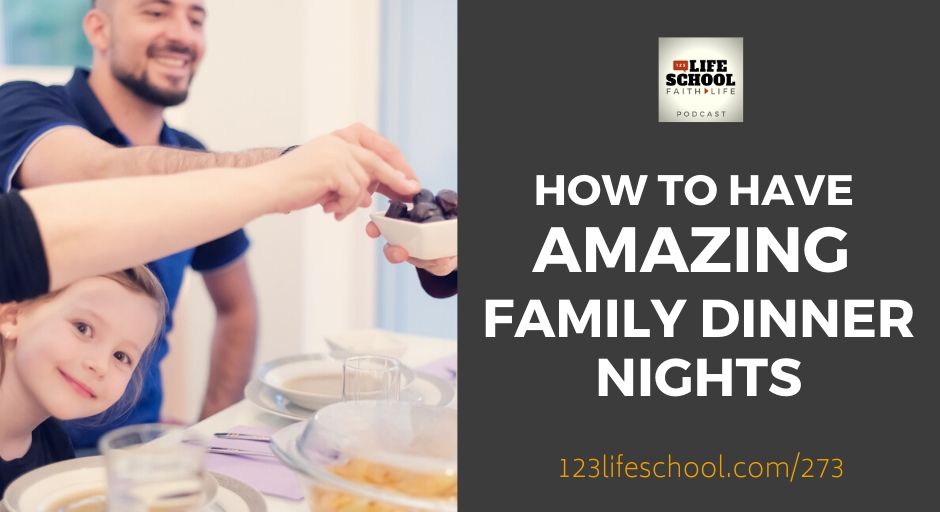 From this episode:
"Start by picking one meal per week that you can bring greater intentionality to. Agree that these times will not be about problem solving or discipline. Go after the heart and a deeper relational connection. Make sure everyone has a role and participates. Have lots of fun and laughter! Make these special dinner nights a time where 'grace' is the watchword for all that you do and experience together."
Each week the Big 3 will give you immediate action steps to get you started.

Download today's BIG 3 right now. Read and think over them again later. You might even want to share them with others…
Thanks for Listening!
Thanks so much for joining us again this week. Have some feedback you'd like to share? Join us on Facebook and take part in the discussion!
If you enjoyed this episode, please share it using the social media buttons you see at the top of this page or right below.
Also, please leave an honest review for The Lifeschool Podcast on Apple Podcasts or wherever you listen. Ratings and reviews are extremely helpful and greatly appreciated! They do matter in the rankings of the show, and we read each and every one of them.
Links and Resources Mentioned in This Episode:
Free Download of the Big 3 For Episode #273
Caesar's website with loads of free discipleship resources.
Missio Publishing – More Missional Books and Resources
In light of this topic, you might also enjoy:
Teaching Your Family to Live Out Your Faith in Everyday Life.