Good News For the Cancel Culture
You've heard about it, and it's not going away anytime soon. The "cancel culture" can hit anyone at any time–even you–if you've ever said or done something that a very vocal group of people disagree with. Unfortunately, the Church is not immune to this type of "canceling" of our own.
In this episode of the Everyday Disciple Podcast, we'll take a look at how God deals with messed up people and disagreements. Did he cancel the reputation and livelihood of some of history's most famous sinners? We'll hear some Good News for all of this, and I'll give you 5 Rules for combating the cancel culture in your life today.
In This Episode You'll Learn:
What the 'cancel culture' is, and how to know if you've been "canceled".
Ways you may have canceled people in your life and not known it.
How the Good News of the Gospel speaks to and cancels the 'cancel culture'.
5 Rules for combating the cancel culture in your life today.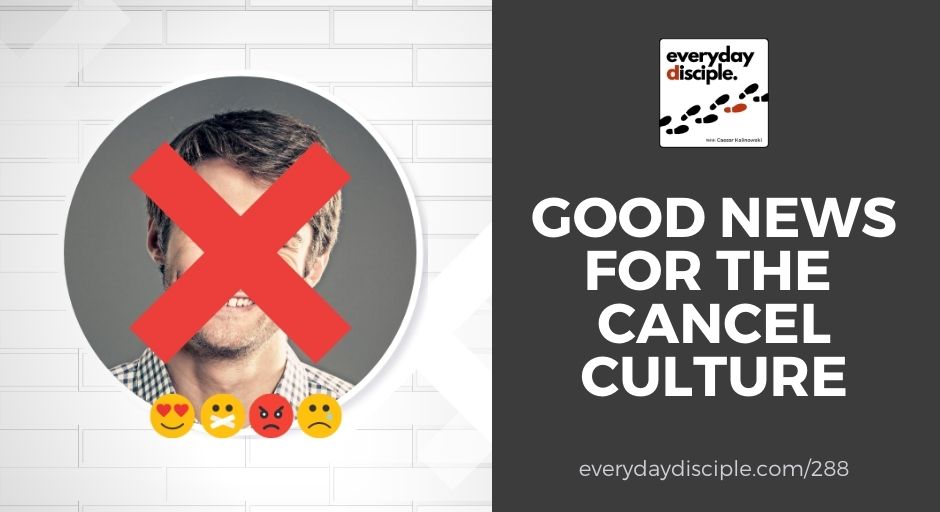 From this episode:
"Some Christians are quick to point to Matthew 18 and the words found here about dealing with a brother or sister who sins and refuses to listen. We are told to treat them as an outsider, an unbeliever… a pagan. Ok. How are we to treat unbelievers? With grace and compassion and patience, showing them perfect love and kindness that casts out fear and control and leads to repentance… Which is a renewing of the mind, a new belief."
Each week the Big 3 will give you immediate action steps to get you started.

Download today's BIG 3 right now. Read and think over them again later. You might even want to share them with others…
Thanks for Listening!
Thanks so much for joining us again this week. Have some feedback you'd like to share? Join us on Facebook and take part in the discussion!
If you enjoyed this episode, please share it using the social media buttons you see at the top of this page or right below.
Also, please subscribe and leave an honest review for The Everyday Disciple Podcast on Apple Podcasts or wherever you listen. Ratings and reviews are extremely helpful and greatly appreciated! They do matter in the rankings of the show, and we read each and every one of them.
Links and Resources Mentioned in This Episode:
Free Download of the Big 3 For Episode #288
Everyday Disciple: FREE Discipleship Resources and Training.
Missio Publishing – More Missional Books and Resources
In light of today's topic, you might also enjoy: Afraid To Share Your Faith?