Blessed to Be a Blessing: Your Family on Mission
Blessed to be a blessing sounds at once awesome… and a little daunting. Where do we start blessing people when there are SO MANY needs around us? That should make it easier, but honestly, it can kind of shut you down, not knowing WHO to bless or HOW.
This week on the Lifeschool Podcast, we talk about how to live fully enjoying the blessings in your life, but also how to live "blessed to be a blessing" to others as a family on mission.
In This Episode You'll Learn:
How many things you've truly been blessed with in this life.
If you're living as a Conduit or a Barrel.
3 powerful, yet simple ways to start blessing others–regularly.
Ways to include your entire family in blessing as part of their discipleship.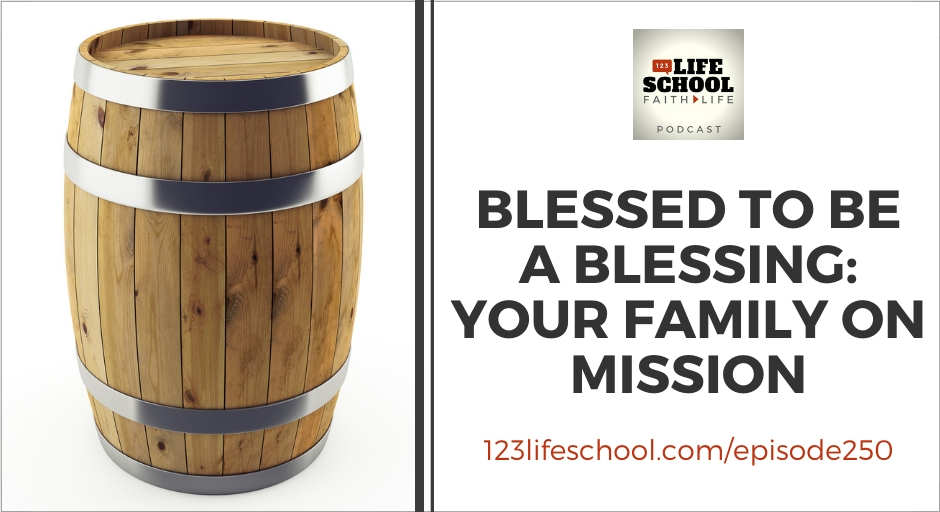 From this episode:
"Imagine a family, or a group of families in a missional community all blessing people in their neighborhood regularly? We suggest 3 small blessings per week each. Do you think people would start to notice something is up with you people?! Would you be a 'peculiar' and attractive bunch?"
Each week the Big 3 will give you immediate action steps to get you started.
Download today's BIG 3 right now. Read and think over them again later. You might even want to share them with others…
Thanks for Listening!
Thanks so much for joining us again this week. Have some feedback you'd like to share? Join us on Facebook and take part in the discussion!
If you enjoyed this episode, please share it using the social media buttons you see at the top of this page or right below.
Also, please leave an honest review for The Lifeschool Podcast on iTunes. Ratings and reviews are extremely helpful and greatly appreciated! They do matter in the rankings of the show, and we read each and every one of them.
Links and Resources Mentioned in This Episode:
Everyday Disciple Challenge starts January 13th. Register now–FREE!
Free Download of the Big 3 For Episode #250
Caesar Kalinowski's Website and Blog with Loads of Resources
Missio Publishing – More Missional Books and Resources
In light of today's topic, you might find this helpful: