10 Secrets to Growing Deeper Friendships
Building strong relationships of trust is a key factor in discipleship. But many of us are not good at building friendships, or we seem too busy in our lives to make the investment of time that it takes.
In this episode of the Everyday Disciple Podcast, join me as I mine the wisdom of author Twyla Franz and uncover practical ways to start growing deeper friendships today.
In This Episode You'll Learn:
How friendships and trust are the pathways for disciple-making.
Why openness and vulnerability don't have to be scary.
How "divine interruptions" are

opportunities to connect and share life.

10 secrets to growing deeper friendships that transform relationships.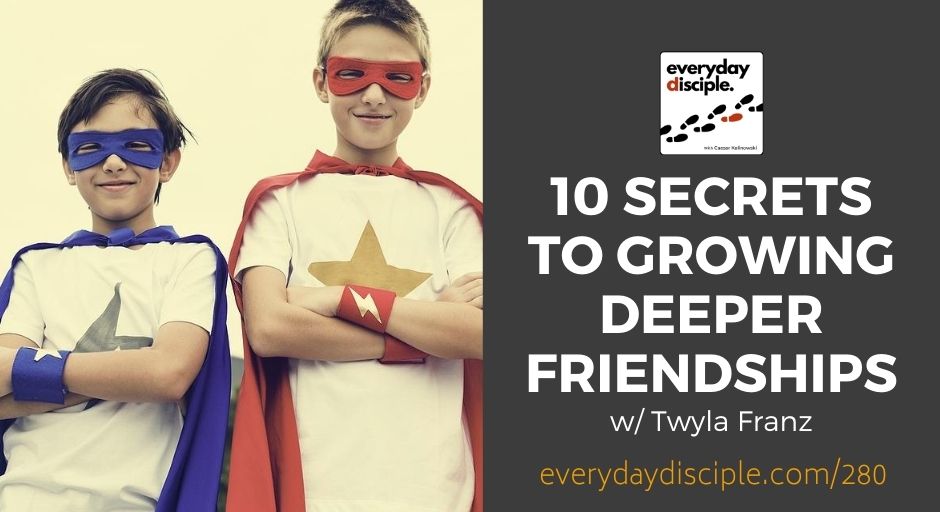 From this episode:
"The #1 thing we all have in common, and it makes for great common ground, is our need for Jesus and the transformation his life brings to ours. Let your redemption show! Don't hide your screw-ups. When people see and hear that you are not perfect, it allows them to live openly around you and be honest too. Honesty like this builds trust in a relationship."
Each week the Big 3 will give you immediate action steps to get you started.

Download today's BIG 3 right now. Read and think over them again later. You might even want to share them with others…
Thanks for Listening!
Thanks so much for joining us again this week. Have some feedback you'd like to share? Join us on Facebook and take part in the discussion!
If you enjoyed this episode, please share it using the social media buttons you see at the top of this page or right below.
Also, please subscribe and leave an honest review for The Everyday Disciple Podcast on Apple Podcasts or wherever you listen. Ratings and reviews are extremely helpful and greatly appreciated! They do matter in the rankings of the show, and we read each and every one of them.

Links and Resources Mentioned in This Episode:
Everyday Disciple Challenge and Workshop – Register Now!
Free Download of the Big 3 For Episode #280
Twyla's Blog: The Uncommon Normal
Everyday Disciple: FREE Discipleship Resources and Training.