Since we're both here right now (at least digitally), chances are you're pretty serious about discipleship, family and your faith. And you desire to make a lasting impact on those around you.
Us too.  Let's do this together.
Integrating our faith into all of life can be hard!
I really love my family and my community, but with everything that comes at us in a day, week, or year, it's easy to get derailed from our best intentions. It can be hard to live out what we say we believe beyond a couple of scheduled events each week. You've felt this, right?
In the Everyday Disciple Podcast we'll show you (in about 30 minutes per episode) how the good news of the Gospel, and our Christian faith, can naturally and confidently be woven into:
Our family life
Parenting
Missional living
Career and Work
Finances
Relationships / Community
Our Health
Entertainment
Pretty much everything...you get the picture!
Each episode is pretty fast-paced, and even though it's serious stuff, it can be funny. We always wrap up with clear action steps for you to take away in that episode's "Big 3".  We also have free goodies to download every week. Who doesn't like free stuff?!
Your Host
I'm Caesar Kalinowski, a spiritual entrepreneur and mentor. It's my passion to help those with a high commitment to intentional living in the areas of discipleship, missional living, family and faith learn to naturally and confidently integrate the really good news of the gospel into every area of life.
I've spent close to three decades leading companies and ministries, traveling the world, and learning from some of the best leaders (fathers, mothers, pastors, business folk) there are. I am kind of a knucklehead at times so I've also made a ton of mistakes. But you shouldn't have to. I want to share with you, step by step, the things I've grown in that lead to a life of spiritual freedom and relational peace. In my life–and for the thousands we've helped and equipped.
If you're interested in coaching, any of the training I offer, or to have me speak at your event, you can find out more on my Work With Me page.
Other Stuff I Love…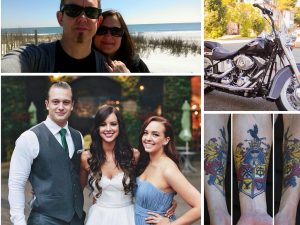 My best friend and wife of 36 years, Tina.  My three awesome kids, Caesar, Christin & Justine.  My grandkids Patton, Caesar V and Remi, who have captured my heart.  And I really love my 2009 Harley FLSTN.
And we all, known as Team K, really seem to dig tattoos.
We also love the Seattle area.
Contact me here.