[SPECIAL] Who Are Your People of Peace
Discipleship has moved out of the classroom (yes!) and into your normal life… but knowing who wants to be discipled and who just wants to be friends can be tough to figure out at times.
In this episode of the Everyday Disciple Podcast, I am sharing a BONUS training I did for folks in the Everyday Disciple Challenge. I'll show you how to move friends and acquaintances toward discipleship relationships… And you'll learn how to find the people (believers and not-yets) who may become part of your existing or new missional community.
God has people who already WANT to be with you!
In This Episode You'll Learn:
How Jesus helped his disciples identify who they would disciple.
How to identify the 'People of Peace' who are in your life today.
Where to spend time looking for these types of people and friends.
How to move folks from acquaintances to disciples on mission.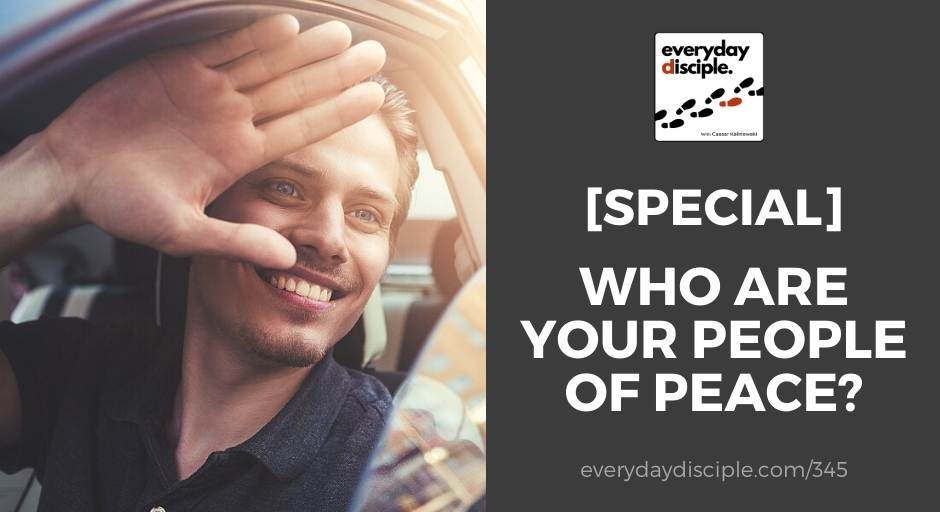 From this episode:
"If you love Jesus and you love people, you're going to want to be out there where the action is. If you find yourself distracted by everything, uninterested or feeling jaded about helping people get to know Jesus, you may be suffering from a lack of love. Either a lack of love for people; you're more worried about your pride and appearance, or a lack of love for Jesus; you really don't think he's all that great."
Thanks for Listening!
Thanks so much for joining us again this week. Have some feedback you'd like to share? Join us on Facebook and take part in the discussion!
If you enjoyed this episode, please share it using the social media buttons you see at the top of this page or right below.
Also, please subscribe and leave an honest review for The Everyday Disciple Podcast on Apple Podcasts or wherever you listen. Ratings and reviews are extremely helpful and greatly appreciated! They do matter in the rankings of the show, and we read each and every one of them.

Links and Resources Mentioned in This Episode:
Everyday Disciple Incubator – [REGISTER NOW]