Missional Christmas: 10 Ideas For Family and Friends
Many of us were raised to believe that the Christmas holidays are a time to unplug from outside relationships and our "normal" community rhythms. Even many Christians tend to isolate away from their small groups, missional communities, and neighbors instead of pressing deeper into relationships at this time of year.
In this episode of the Everyday Disciple Podcast, we'll give you 10 fun and easy missional ideas that you can do with family and friends to help you stay on mission this holiday season.
In This Episode You'll Learn:
Why the Christmas holidays are a perfect time to reach out on mission.
How recent social distancing regulations have made certain, favorite, holiday traditions a perfect opportunity for mission in your neighborhood.
How to pick one other family to be part of your family this holiday season.
10 ideas you can mix and match that are fun for your family to do together.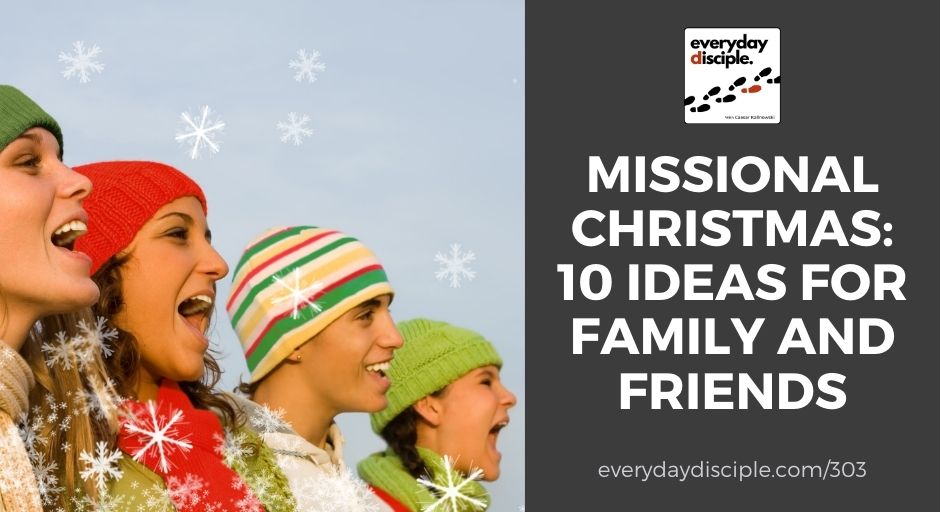 From this episode:
"Try doing a Christmas Eve 'candlelight' singalong… or you could pump this up by hosting it as a mini candlelight Christmas Eve service, where the Christmas story is read from the Bible or another book. You can pray for each other, for God to bless and prosper everyone in the new year ahead, and express gratitude for God sending Jesus to us as the light of the world!"
Each week the Big 3 will give you immediate action steps to get you started.

Download today's BIG 3 right now. Read and think over them again later. You might even want to share them with others…
Thanks for Listening!
Thanks so much for joining us again this week. Have some feedback you'd like to share? Join us on Facebook and take part in the discussion!
If you enjoyed this episode, please share it using the social media buttons you see at the top of this page or right below.
Also, please subscribe and leave an honest review for The Everyday Disciple Podcast on Apple Podcasts or wherever you listen. Ratings and reviews are extremely helpful and greatly appreciated! They do matter in the rankings of the show, and we read each and every one of them.
Links and Resources Mentioned in This Episode:
Free Download of the Big 3 For Episode #303
Coaching with Caesar and Tina in discipleship and missional living.
Get Caesar's latest book: Bigger Gospel for FREE… Click here.