200: Why Christianese is Not Good News
It seems that many Christians are bilingual… We speak in one normal, everyday language most of the time, but when it comes time to talk about religion, spirituality, or God, we break out our special "Christianese" language.
This week on the Lifeschool Podcast, we'll talk about being more intentional (and careful) with the words we use when we talk about our faith. And we'll give you a better way forward!
Christianese is sort of this made up language that Christians have been taught and now use… A LOT! Some of it is pretty weird, and most of it is unnecessarily confusing and a put-off to those who don't know this very special language…
In This Episode You'll Learn:
Why many of us use Christianese and how we've learned it.

The Top 10 Christianese words or sayings deciphered.

What our language communicates to those outside the Church.

How we can grow in our own "gospel fluency" and begin to speak in clear, meaningful ways about our faith and what life as a Christian is all about.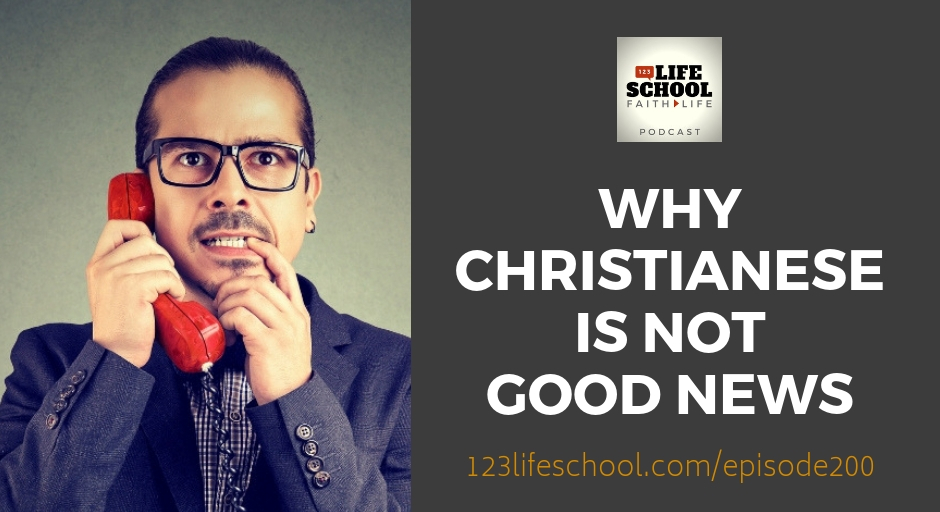 From this episode:
"The Bible and our Christian faith are all relevant… unless we shroud everything in insider language and weird terms that others can't understand or it puts them off. Jesus spoke in everyday language because he saw his relationship with his Father (and ours) as a normal part of life as a human. We can learn to put aside our cultural oddities and speak like Jesus spoke."
Each week the Big 3 will give you immediate action steps to get you started.
Download today's BIG 3 right now. Read and think over them again later. You might even want to share them with others…
Thanks for Listening!
Thanks so much for joining us again this week. Have some feedback you'd like to share? Join us on Facebook and take part in the discussion!
If you enjoyed this episode, please share it using the social media buttons you see at the top of this page or right below.
Also, please leave an honest review for The Lifeschool Podcast on iTunes. Ratings and reviews are extremely helpful and greatly appreciated! They do matter in the rankings of the show, and we read each and every one of them.

Links and Resources Mentioned in This Episode:
Free Download of the Big 3 For Episode #200
Get a free copy of Caesar's book BIGGER GOSPEL and Learn to Speak the Good News of the Gospel Into Everyday Life! Click Here Now.
Missio Publishing – More Missional Books and Resources
Caesar Kalinowski's Website and Blog with Loads of Resources
In light of today's topics, you might find these posts and videos helpful: