Becoming a Family on Mission Pt.2
You're never going to lead anyone further, faster, or deeper into the gospel and discipleship than you're leading your own family. Never. But people are waiting for a place at your table and a taste of life in the Kingdom of God! Let's go deeper…
In this episode of the Everyday Disciple Podcast, Caesar and his wife, Tina, continue the story of how their family rhythms grew to include many others as they make disciples in community. They'll share some of the things that God had to change in their hearts and home in order for this Kingdom lifestyle to become a reality.
In This Episode You'll Learn:
The rest of the Team K story and a heartwarming testimony you gotta hear!
The ways God may want to speak into your

busyness, fear, shyness, lack of love, etc.

How individualism in our Western culture has severely damaged our families.
Why the way you lead your family on mission can be the model for your church.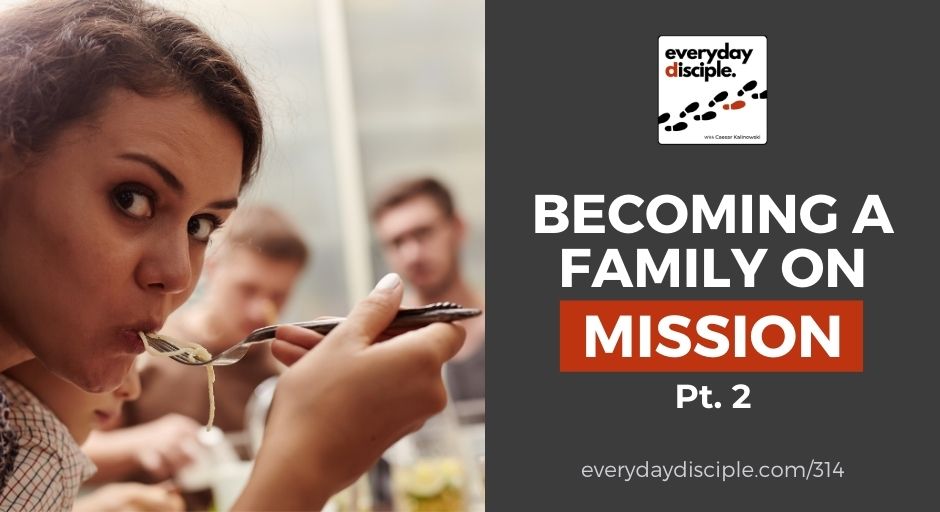 From this episode:
"I want to assure you, it is not your perfect home or your award-winning cooking skills that people are dying for. Letting go of these expectations requires me to believe, in the moment, that this is not really all about me; it is about Jesus being seen and experienced through us. Our neighbors don't need an amazing meal; they need us to be Jesus with flesh on. True hospitality is about having an attitude and posture that says to others,  'You are always invited to join us; whatever we're eating, or doing… you are welcome.'"
Each week the Big 3 will give you immediate action steps to get you started.

Download today's BIG 3 right now. Read and think over them again later. You might even want to share them with others…
Thanks for Listening!
Thanks so much for joining us again this week. Have some feedback you'd like to share? Join us on Facebook and take part in the discussion!
If you enjoyed this episode, please share it using the social media buttons you see at the top of this page or right below.
Also, please subscribe and leave an honest review for The Everyday Disciple Podcast on Apple Podcasts or wherever you listen. Ratings and reviews are extremely helpful and greatly appreciated! They do matter in the rankings of the show, and we read each and every one of them.

Links and Resources Mentioned in This Episode:
Free Download of the Big 3 For Episode #314
Coaching with Caesar and Tina in discipleship and missional living.
Free Discipleship and Missional Resources